Nobody Owens, known to his friends as Bod, is a normal boy. He would be completely normal if he didn't live in a sprawling graveyard, being raised and educated by ghosts, with a solitary guardian who belongs to neither the world of the living nor of the dead. There are dangers and adventures in the graveyard for a boy. But if Bod leaves the graveyard, then he will come under attack from the man Jack - who has already killed Bod's family...

Beloved master storyteller Neil Gaiman returns with a luminous new novel for the audience that embraced his New York Times bestselling modern classic Coraline. Magical, terrifying, and filled with breathtaking adventures, The Graveyard Book is sure to enthrall readers of all ages.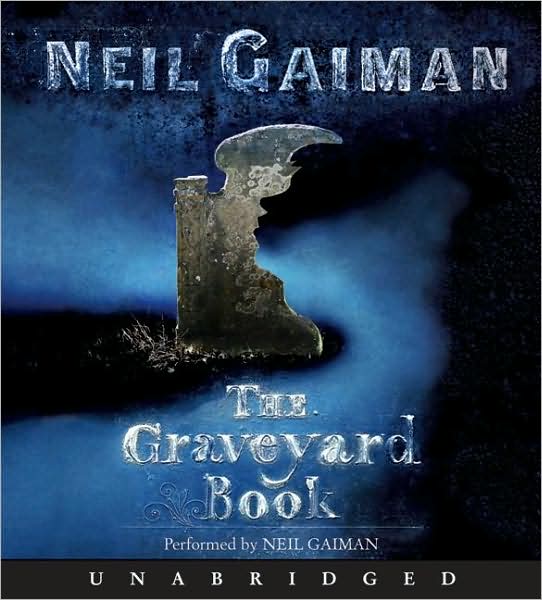 This was the unabridged
audiobook
on CD edition (7 discs/7.5 hours).
This was simply lovely! Not least of all because the author read the book himself, which makes any performance infinitely better. Also, the intro music sounded distinctly like the opening theme music from
Jonathan Creek
which made it just that much cooler!
I'm rather surprised that this was a children's book. I guess it's for older kids, who knows. In any case, it was very good and completely different than anything else I've ever read. Well, heck, every
Gaiman
is! :) It was dark and light at the same time. And very sad at the end.
I just loved Silas! And I loved how what Silas was sort of dribbled out until at the end you were perfectly sure that what you thought he was and what he really was were the same thing. Perfect!
I wasn't sure whether to give this one seven or eight stars (it'd be a seven and a half if that were an option), as it was good but not great, but not underwhelming either. Very difficult to decide. I'm going to go with eight stars since the author/reader's performance was spectacular.
Rating: ★★★★★★★★☆☆