Lee McKinney Woodyard knows that being in the luxury chocolate business isn't all sweetness and light, nor is the holiday season. But she tries to draw the line at cold-blooded murder...

With the Warner Pier Winter Arts Festival just days away, everyone in the West Michigan town is looking forward to the big art show - and, of course, the unveiling of TenHuis Chocolate's special holiday chocolates.

As treasurer of WinterFest, Lee is up to her elbows in the arguments, egos, and last-minute mix-ups that happen behind the scenes. But she's coping, even when the guest juror of the arts festival shows up drunk. Lee leaves him to sleep it off, but she is stunned the next day when her husband, Joe, discovers that someone has put the visiting dignitary into a permanent state of repose.

As the last people spotted near the crime scene, Lee and Joe are in a sticky situation. But after another murder and a run-in with a deadly snowman, they're more determined than ever to find the real killer before someone else comes to a bitter end...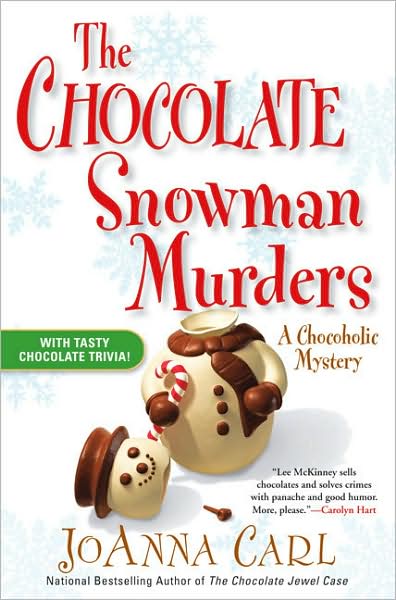 First, let me say that this was my first Chocoholic mystery, and most certainly my last. I picked this up because of the great title. Frankly, the title is the only thing great about the book. The book was mediocre at best. In fact, if I hadn't already been curled up under a blanket with a cup of cocoa and without another book within reach, I wouldn't have even gotten past the first chapter. But, since I was all settled I got about halfway through and figured I may as well force myself to finish it. It wasn't worth the time.
The main character, Lee, is annoying beyond belief! She's such a princess, constantly whining about how she's so pretty and how, in her first marriage (of two), she was a trophy wife. Seriously? I mean, come on! She is also a complete brat about being from Texas and how people judge her from being from there, blah, blah. Well, if she shut up about it for five minutes then it wouldn't be a problem! And, I really,
really
hated the part where she was in a restaurant with her husband and she got angry that another diner thought she was a call girl. Seriously, how vain do you have to be to even think that?!
Also, there was a nasty comment from the police chief character about how someone who got killed in a motel must have been involved with criminals. He gives prostitutes and drug dealers equal billing on that one. I found that especially offensive having just read
Brothel
.
The only good thing about the book was that it was a rather quick read, but it had a formal, but not overly stiff, flow.
The killer was easy to identify right from the beginning, but the why was harder to guess.
All in all, it was a weak book with a bitchy main character that grates on your nerves, and I can't believe that this was the 8
th
in a series! I have no desire to read the other seven! I simply cannot give this anything higher than five stars.
Rating: ★★★★★☆☆☆☆☆