In 1851 Art Mumby, his irritating sister Myrtle, and their distracted scientist father live aboard the majestic space house Larklight with numerous robotic servants. When the word comes that a mysterious gentleman plans to visit, the house is thrown into a frenzy of preparation.

This bizarre visitor brings an army of attack spiders to their home and plans a disaster that will destroy not only the entire British Empire, but also the known universe! Art and Myrtle narrowly escape in their lifeboat, tumbling through space on a direct course for the moon. Will help from a few exotic space creatures and an extraterrestrial pirate be enough for Art and Myrtle to prevent a galactic calamity?

Author Philip Reeve was shortlisted for the Whitbread Prize Children's Book Award. His imaginative Victorian space adventure will captivate young listeners who will be thrilled by the rollicking performance from narrator Greg Steinbruner.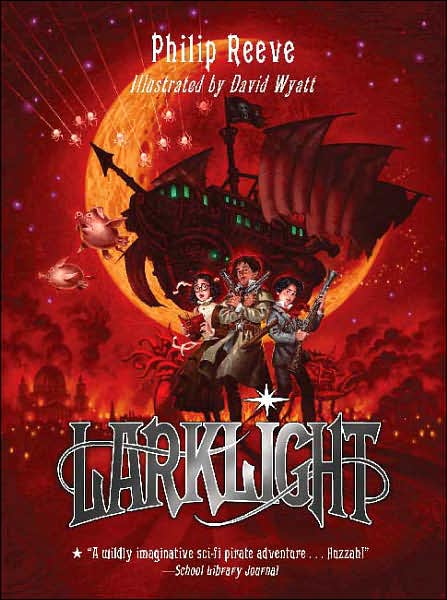 This was the unabridged audiobook on cassette edition (8 cassettes/8.75 hours).

The story itself was entertaining, if rather predictable in spots. I really disliked the sister though. And I'm not sure if the religiosity was a reflection of the Victorian times, or the author's own predilection, but it was very distracting. And if the word "huzzah" or however it's spelled, was used one more time I thought I would scream!

I did really enjoy the hover hogs and definitely want a crew of my own!

Perhaps I watch too much television, but I recognized definite bits of the Wizard of Oz and Doctor Who characters/situations/influences which left me slightly uncomfortable.

The reader was rather inappropriate for the book. His pauses were in the complete wrong places and he seemed rather stiff. And was he even British? So bizarre.

All in all, I'd give it a six. It was good to have read and I'm looking forward to reading the next book, Starcross.

Rating: ★★★★★★☆☆☆☆