Art and Myrtle Mumby have traveled through space to save the British Empire from an attack by giant spiders. So they kind of deserve a holiday. And that's exactly what they believe they're getting when they travel to Starcross, a luxurious resort in the asteroid belt.

Little do they know they have been lured to Starcross by a sinister being who plans to take control of their minds. Luckily for Art and Myrtle, they have an extremely powerful, ancient superhuman on their side - their mum. She sniffs out the evil scheming and sends an ominous warning to her children. The solar system is on the brink of invasion - from highly intelligent hats from the future!

Winner of the Gold Nestle Smarties Book Prize, Philip Reeve received five starred reviews for Larklight, the extraordinary adventure that preceded Starcross. His off-the-wall, Victorian-era humor fills the smashing sequel with nonstop laughs, and narrator Chris Steinbruner provides a rollicking performance.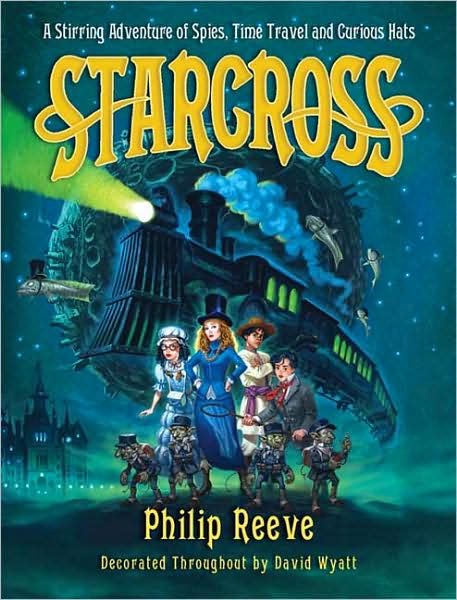 This was the unabridged
audiobook
on CD edition (7 discs/7.5 hours).
I, personally did not find the book to have any "Victorian-era humor" or to be filled with "nonstop laughs". And the reader was far, far,
far
from providing a "rollicking performance"! I'm not sure the person who wrote the copy on the book listened to the same book I did! Of course, they were being paid to write the copy, so that may explain it.
As with
Larklight
, I found the reader outrageously annoying. And, I found Myrtle to be just as bitchy and overly religious as before.
Mrs.
Mumby
was a nice addition. She seems like someone you would actually want to know in real life. Jack somehow reminds me of the character Nat from
The Witch of Blackbird Pond
.
The story itself was okay. It would have been significantly better without the religious spouting from Myrtle. Ugh! And if I ever hear "Mr.
Titfur
" again it will be too soon! I can't tell if the author is just an ass, or if the reader makes the book seem worse than it is. The one light spot in the entire book was a passing mention of ginger shortbread. It sounds yummy and I simply
must
find a recipe for it!
I'll give it six stars. It would be seven with a different reader. I'm certainly
not
hoping for another installment in the series!
Rating: ★★★★★★☆☆☆☆