From the creator of the popular Hamish Macbeth mysteries comes a new series, starring Agatha Raisin. A public relations executive in London until her recent retirement to the Cotswolds, Agatha is ready for some romance and excitement in her life. However, she gets more than she bargained for when the charming yet sinister new veterinarian in town dies of an injection meant for the horse he was about to operate on. Agatha is sure it was murder and turns to her distinguished neighbor, the retired military man, James Lacey, for aid. Together, the odd couple begin to investigate Dr. Bladen's death and the curious lack of sorrow shown by his divorced wife. But will they succeed in unmasking a killer before suffering an "accident" of their own?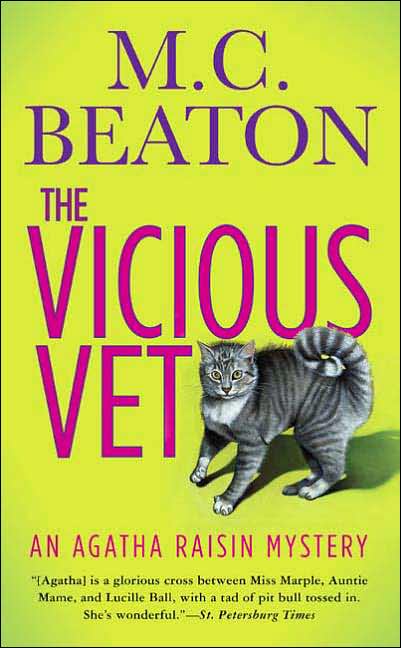 This was the unabridged
audiobook
on cassette edition (4 cassettes/6 hours).
I still don't particularly like Agatha. Actually, for that matter, I don't particularly like James either. The vicar's wife, however, is perfect! She seems to be in the vein of Miss Marple.
It's cute that Agatha now has two cats! Too perfect! And Bill is lovely, as always, although his parents are unfortunate hosts.
Donada
Peters was wonderful, as always, as the reader. The story was good, a nice quick listen. My favorite quote was Bill saying "Take one man who feels he's too ugly to get a woman, and one virgin, and that's an explosive mixture!". Ah, only Bill! You just have to love him!
This one gets seven stars. Quite enjoyable and it makes me definitely want to read more.
Rating: ★★★★★★★☆☆☆