The legend began in the obscure little town of Pico Mundo. A fry cook named Odd was rumored to have the extraordinary ability to communicate with the dead. Through tragedy and triumph, exhilaration and heartbreak, word of Odd Thomas's gifts filtered far beyond Pico Mundo, attracting unforgettable new friends - and enemies of implacable evil. With great gifts comes the responsibility to meet great challenges. But no mere human being was ever meant to face the darkness that now stalks the world - not even one as oddly special as Odd Thomas.

After grappling with the very essence of reality itself, after finding the veil separating him from his soul mate, Storm Llewellyn, tantalizingly thin yet impenetrable, Odd longed only to return to a life of quiet anonymity with is two otherworldly sidekicks - his dog Boo and a new companion, one of the few who might rival his old pal Elvis. But a true hero, however humble, must persevere. Haunted by dreams of an all-encompassing red tide, Odd is pulled inexorably to the sea, to a small California coastal town where nothing is as it seems. Now the forces arrayed against him have both official sanction and an infinitely more sinister authority ... and in this dark night of the soul, dawn will come only after the most shattering revelations of all.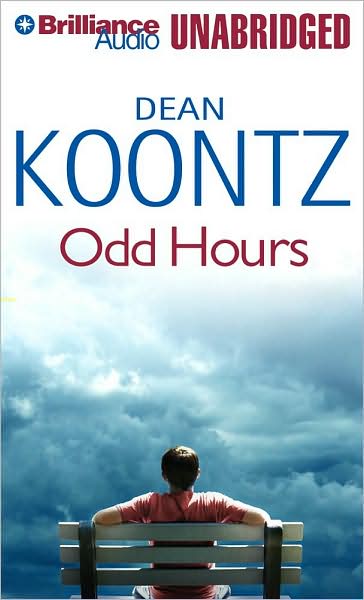 This was the unabridged
audiobook
on CD edition (7 discs/9 hours).
I have to say that this was not my favorite Odd Thomas book. Don't get me wrong, it was still a great book, but it just wasn't my favorite of the series. I guess the first one is always the best.
In any case, I truly enjoyed the book, which was the usual upbeat suspense of Odd Thomas. :) I do miss the characters from
Pico
Mundo
, but the new characters are quite good also, just not comfortable friends like the others. It was nice to have Frank and Boo around, but I miss Elvis too.
The reader was excellent for the book, and made what could have been a long 9 hours flash by in no time. Also, this edition has the tracks at 45 and 90 second intervals, which is so nice for listening to on my
iPod
, as I don't have to pause midway through a track and come back to it to discover that I've lost my place.
And I love, love,
love
that Odd was wearing a Mystery Train sweatshirt and
Wyvern
hat (or t-shirt?)!!! For those who don't know, they are references to Koontz's Christopher Snow series. That just made the whole book right there, that one Mystery Train sweatshirt!
While this was a solid book and entertaining, it just didn't give me the usual Koontz tingle. It was good, but not great. So, I'm going to give it seven stars.
Rating: ★★★★★★★☆☆☆