When Sir Charles

Fraith

, a kindly baronet, receives a letter from Jessica

Tartinck

, president of the

Dembley

Walkers Association, his life is thrown into chaos. Ms.

Tartinck

, as part of her campaign against landowners over the use of public footpaths,

has

chosen

Friath

for her latest attack. Although he suggests a reasonable counteroffer to her demands, Jessica ignores him. Jessica's protest march turns into a death march and she ends up murdered in Sir Charles' field. Agatha is only too willing to try to help clear Sir Charles' name, especially since it means playing the "wife" of her attractive and elusive neighbor, James Lacey. Toward murder and romance, Agatha takes an agreeably direct approach.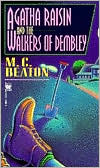 This was the unabridged
audiobook
on cassette edition (4 cassettes/4.5 hours).
Reading this book right on the heels of the last Agatha Raisin perhaps wasn't the best choice. I think I needed a rest period for a day or two before diving into another Agatha Raisin. It was a bit overwhelming.
In any case, the mystery was an interesting one and the murderer's identity quite surprising. The culprit was quite deluded, but one never thought criminally insane!
Agatha and James posing as a married couple was a nice touch, and really made James grow on me a bit. I do like the new development in their relationship, although it feels a bit unnecessary.
Roy was his usual obnoxious self. Actually, he's turning from annoying to cruel lately. Bill was lovely as always. I do wish we'd see more of him and that Agatha would be a bit nicer to him. The vicar's wife certainly sounds like someone you would actually like to be friends with in real life!
This one gets seven stars. It was a nice addition to the series and I can't wait to read more!
Rating: ★★★★★★★☆☆☆