Pour yourself a bracing cup of tea and prepare to be enthralled as internationally acclaimed author M.C. Beaton updates the classic British Manor House mystery in Death of a Nag. Police constable Hamish Macbeth - loved by mystery fans around the world - is once again on the job in this captivating, colorful and witty whodunit.

Macbeth - Lochdubh's one-man police force - is in a foul mood. He's lost his promotion and his fiancee, and, instead of solitude, his vacation at "Friendly House" yields a freshly murdered corpse and an inn full of suspects who each longed to commit the crime.

Can Macbeth find the culprit, or will justice prove elusive even for the redoubtable Scot?

Death of a Nag rings with originality and will leave you guessing right up to the cunningly clever final twist.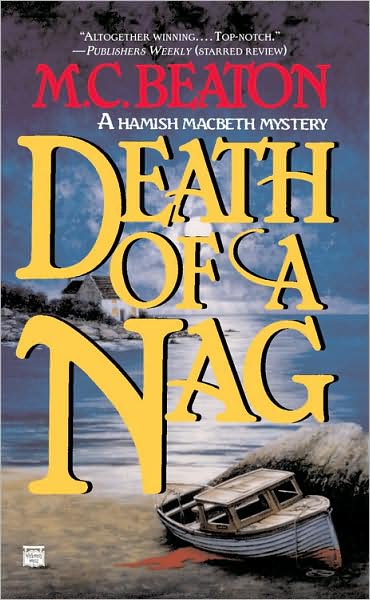 This was the unabridged
audiobook
on cassette edition (5 cassettes/6.25 hours).
Davina Porter, as the reader, did a wonderful job as always. She just tunes into the characters, and they come alive for the listener.
Maggie was rather unlikeable. She seemed a bit cold and unfeeling - I'm sure she'd do well in a real police force.
This one gets seven stars. I found it a bit depressing with
Towser
and mourning the end of his engagement. It just felt depressing from the beginning. I was rather surprised and disappointed by the identity of the culprit and the resolution. I guess it sort of continued the depressing theme.
Rating: ★★★★★★★☆☆☆