The most comprehensive retrospective to date of one of America's most iconic artists, The Art of Tasha Tudor is the finest harvest of her remarkable art and extraordinary lifestyle. Harry Davis draws from more than 10,000 pieces produced by Tasha Tudor, and here includes 150 of her finest paintings and drawings, including holiday cards, illustrations from her classic children's books, fashion designs she made for Pierre Deux, and samples from her personal sketchbooks.

Tasha Tudor is the illustrator, author, or subject matter of more than ninety books, including The Secret Garden, one of the bestselling children's books of all time. She has left an indelible print on the traditions and celebrations of devoted fans from all over the world.

Tasha Tudor has lived her art for three-quarters of a century, raising her own food, spinning and weaving her family's clothes, and leaving the fruits of her hobbies to the world as paramount collections - her gardens are famous, and her collection of 1830s clothing is the world's best. The renowned Abby Aldrich Rockefeller Folk Art Center in Williamsburg honored her in 1996 with a landmark exhibition of her work.

This is the definitive look at how Tasha Tudor's life has created her art, how her art has shaped her life, and why it is essential to view them together to best appreciate her gracious legacy. Davis provides detailed biographical information, everything from the origin of Tasha's name to how she raised four children on her own, in order to illustrate the amazing connection between her life and her work. A longtime confidant of Tasha Tudor, Davis details his most personal memories of the good and bad times they shared together.

The Art of Tasha Tudor is sure to become the seminal book on her life and work.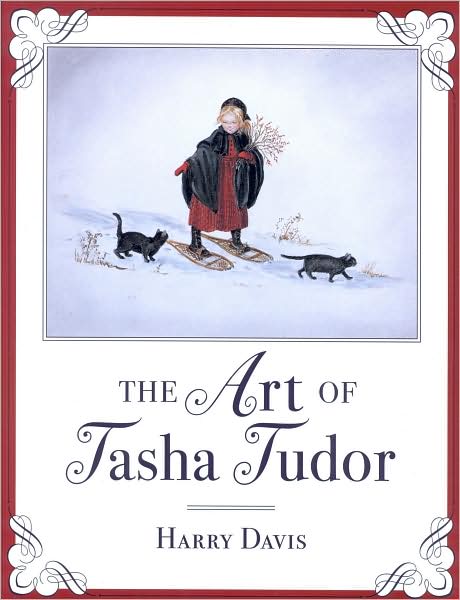 I must say that the more I learn of Tasha Tudor, the less I like her as a person. The author even says: "She can be mean, stubborn, imperious, and unforgiving, by her own account." Then then he adds, "I have seen Tasha Tudor's dark side and it is, occasionally, frightening to behold."
It explains so much of her character and bad behavior to learn that she was born of old money parents. Of course she treats her "friends" as servants!
I found it more than a little disturbing to discover that she kept a supply of deceased mice and birds in her "mouse morgue" freezer and would pose partially frozen mice in various positions as models. Ew!
For someone who professed to love animals as much as Tasha, it was extremely disturbing to discover that, in order to meet a publishing deadline, she kept a raccoon captive in a cage in her kitchen until she was finished with him. The poor animal was trapped for days, scared and not well cared for, just so the bitch could have a live subject for her paintings. What kind of person even does something like that, let alone
brags
about it!
The highlight of the entire book for me was the 1996 print "The Harvest Pantry", which made me extremely jealous and make me wish I had a pantry just as large and organized!
This one gets seven stars. It was quite thorough about describing her life and art and the pictures of the prints were very nice.
Rating: ★★★★★★
★
☆
☆☆