Everybody in Lochdubh knew about the Macho Man, a mean bully claiming to be a professional wrestler. His insults at the local pub caused some bonny brawls. His sneaking around aroused suspicion that he was romancing some Lochdubh wives. And his challenging policeman Hamish Macbeth to a public bout triggered an epidemic of bookmaking. Everyone suspected Hamish to take a bloody pounding; no one expected a murder. Amid all the excitement Hamish would rather be fishing for salmon instead of clues. But the brutal Macho Man left a trail of hatred and fear in his wake - even managing to disrupt Hamish's career...reason enough for a stubborn Scots cop to comb the Highlands if necessary to track down a heartless killer.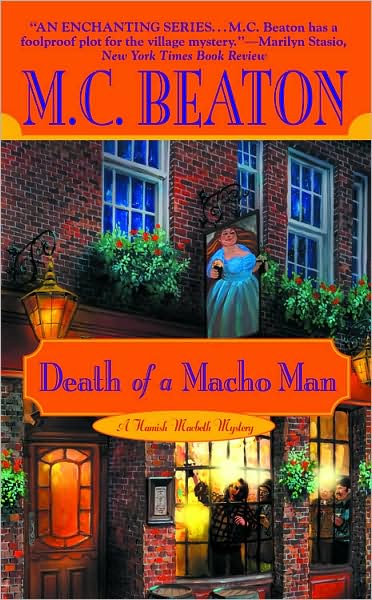 This was the unabridged audiobook on cassette edition (5 cassettes/6.75 hours).
I enjoyed Priscilla's involvement in the case, and it's nice to see that she and Hamish are almost back to their old selves instead of backbiting constantly. She's so darn jealous and judgemental though!
The murders, and murderers, this time around were decidedly different and quite intriguing. I never would have figured out all the background on them!
It really irks me, as of course the story is designed to do, that while Hamish is constantly under threat of expulsion from the force, Blair always escapes unscathed. I hope karma bites him in the butt soon. Jimmy Anderson is a nice ally to have though, as are the rather fickle villagers.
This one gets seven stars as usual. Davina Porter was brilliant, as always, as the reader. Another solid addition to the series it was refreshing and more upbeat than the last one.
Rating: ★★★★★★★☆☆☆