With this outrageously entertaining whodunit, internationally-acclaimed M.C. Beaton leads you on a fun-filled Highland Fling through scenic Scottish villages and rocky hillsides. Independent-spirited Constable Hamish Macbeth - Lochdubh's one-man police force - has his hands full after a glitzy TV company arrives in search of higher ratings.

Ever since a British television crew began filming a mystery series at nearby Castle Drim, Hamish has watched tension building. Middle-aged townsfolk and flashy filmmakers are clashing, the younger locals are vying for bit parts, and rumors are flying about vicious quarrels among the crew. But trouble really escalates after one of the scriptwriters is found dead, and Hamish discovers a full cast of suspects lurking behind the scenes.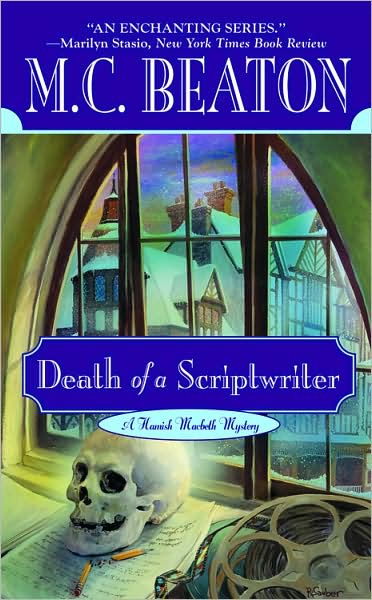 This was the unabridged
audiobook
on cassette edition (5 cassettes/6.5 hours).
What a crazy cast of characters the film company members were that descended on
Drim
! And
Drim
of all places! Just perfect!
As the book is focused around a book being turned into a television series, I wonder if the author drew on her own personal experiences of having the Hamish Macbeth television series based on her books. It's interesting to think about such things. Especially as her television series was produced by BBC Scotland, as was the production in the book, a fact the book's characters weren't particularly fond of. Quite intriguing.
I was actually not particularly concerned by the murderer's victims, there weren't any nice ones in the bunch, really. I was actually quite glad of the murderer's identity, as I really did not like the person at all.
Sheila and the minister's wife got exactly what they deserved on their return to
Drim
. They were certainly not nice people either.
This one gets seven stars. A typically quite enjoyable Hamish Macbeth story that was only lacking in that Priscilla was still in London.
Rating: ★★★★★★
★
☆
☆☆