John Seymour's classic guide gives you the knowledge and expertise to create your own self-sufficient garden.

Whatever the size of your space, you'll find out how to garden organically and maximize your harvest, with the need for radical changes to your lifestyle.

From cultivating vegetables to making cider, keeping chickens to training vines, you'll garden in tune with the seasons, growing for the year, eating for today and storing for tomorrow.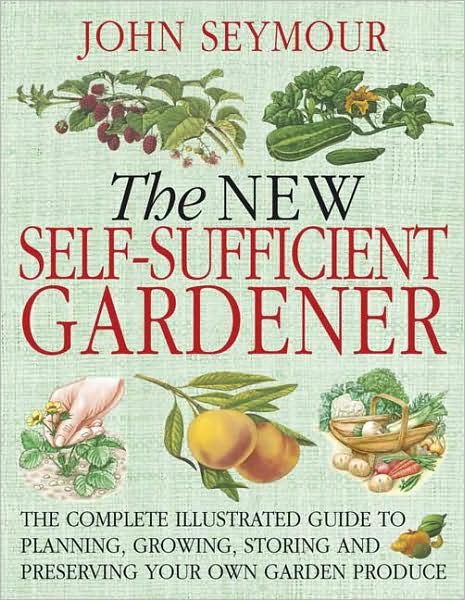 This was an uncommonly unwieldy and physically hard to read book. It's an
oversized
paperback edition and is hence quite floppy and difficult to hold so the reader must rest it on a surface or use both hands. The illustrations in the book are simply fabulous and really help the reader to understand and assimilate the information.
This is really more of an encyclopedia of fruits and veggies, rather than an enjoyable theory of self-sufficient gardening. Nonetheless it was very well written and engaging. The only thing that I did not like was that there were no USDA hardiness zones listed for any of the plants.
This
is to be expected, I suppose, since the author is in Britain, but it was still disappointing since I've rather gotten used to it elsewhere.
There
is also a rather disturbing chapter on keeping chickens, ducks, and rabbits (!) for meat, eggs, and manure. There are detailed illustrations of how to kill and skin the animals that made my skin crawl. It is certainly not for the faint of heart and confirmed that keeping animals for meat is so not for me!
The book is rather confusing at points as it talks extensively about double digging deep beds and intensive planting, but then it lists the traditional spacings in the individual plant descriptions.
The recommendations for preserving garden produce also concern me greatly as 95% of them are suggested in ways that do not meet USDA safety standards - such as canning in a warm oven not canning pickles.
The author suggests making vegetable and fruit wines, or "country wines", at home. I can thoroughly embrace the fruit wines, but parsnip and carrot wines are a bit beyond my culinary comfort zone.
This one gets eight stars for the sheer wealth of information presented in such an accessible way.
Rating: ★★★★★★★
★
☆☆