Cheverell Manor is a lovely old house in deepest Dorset, now a private clinic belonging to the famous plastic surgeon George Chandler-Powell. When investigative journalist Rhoda Gradwyn arrived there one late autumn afternoon, scheduled to have a disfiguring and long-standing facial scar removed, she had every expectation of a successful operation and a pleasant week recuperating. Two days later she was dead, the victim of murder. To Commander Adam Dalgliesh, who with his team is called in to investigate the case, the mystery at first seems absolute. Few things about it make sense. Yet as the detectives begin probing the lives and backgrounds of those connected with the dead woman - the surgeon, members of the manor staff, close acquaintances - suspects multiply all too rapidly. New confusions arise, including strange historical overtones of madness and a lynching 350 years in the past. Then there is a second murder, and Dalgliesh finds himself confronted by issues even more challenging than innocence or guilt.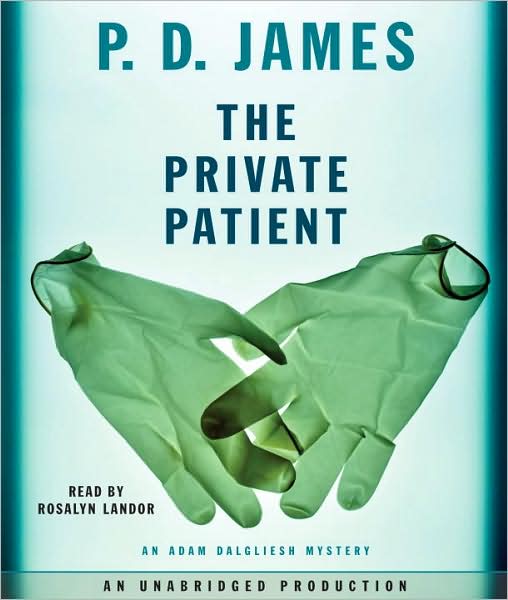 This was the unabridged
audiobook
on CD edition (12 discs/15 hours).
It was so nice to see Adam
Dalgliesh
again. It feels like ages since his last novel! It was like meeting a pleasant old
acquaintance
to catch up after ages of not seeing each other. Not friends, one could never be friends with
Dalgliesh
or his comrades, or even Emma, but a nice visit nonetheless.
As usual, I had no idea about the identity or motive of the murderer. It was really quite intriguing to see it all unravel and play out. All the various threads were immaculately tied together into an intricate web. I did, however, find that it took ages, as usual, to actually get to the murder. I spent much of the first disc or so just wishing things would move along more quickly!
Rosalyn
Landor
was lovely as the reader. She had just the right tone and pace for each character's
portrayal
. She made the tome of a book speed by.
This one gets eight stars. The mystery was masterfully, if time
consumingly
, presented and woven with such intricate care as to make it virtually impenetrable to the amateur reader. It was lovely to see the progress of Adam and Emma's relationship as well. The book was so well done that if this were the last
Dalgliesh
novel I wouldn't feel deprived as everything was wrapped up so tidily.
Rating: ★★★★★★
★★
☆☆