Agatha Raisin is tying the knot with James Lacey before he can have second thoughts. After all, her first husband must be long dead of alcohol poisoning. But Jimmy Raisin hears the news in his cardboard residence in London and reaches the village of Carsely just in time to stop Agatha from committing bigamy. Promptly jilted by her groom, Agatha pushes Jimmy into a ditch - where he is later found strangled. Even the Local Ladies' Society believes her - or James - to be the killer. Soon the unhappy couple, thrown together again by their investigation of Jimmy's insalubrious past, are risking life and limb - not to mention love - as they ferret out dark doings that make Carsely the multiple murder capital of the English Cotswolds.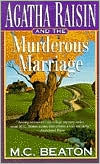 This was the unabridged
audiobook
on CD edition (5 discs/5.5 hours).
Ah, Agatha Raisin! Only she could have a drunkard husband show up in time to ruin her pending
nuptials
! It would have been too tame to actually have the marriage go through as expected!
Bill Wong was lovely as usual, although his taste in the nasty Maddie was sorely lacking. Maddie was
such
a bitch! Although, are there ever really any nice policewomen in novels? They all seem hard and bitchy. Perhaps I have yet to come across the perfect novel featuring a charming policewoman.
James and his behavior were typical. Really, he's becoming quite wearing on the nerves. The vicar's wife was her usual self. It truly would be nice to know someone like her!
This one gets seven stars. It was entertaining and light and quite enjoyable.
Donada
Peters did a spectacular job, as always, reading the book.
Rating: ★★★★★★
★
☆
☆
☆