Agatha Raisin's marriage was put off when her ex-husband, who she assumed was dead, showed up - very much alive. Fortunately, he was murdered thereafter, and Agatha solved the crime. Now she is off to Cyprus to track down her ex-fiance. Instead of enjoying their planned honeymoon, however, they witness the murder of an obnoxious tourist. Two sets of terrible tourists surround the unhappy couple, arousing Agatha's suspicions. And, much to James's chagrin, she won't rest until she finds the killer. Unfortunately, it seems the killer also won't rest until Agatha is out of the picture. Agatha is forced to track down the murderer, try to rekindle her romance with James, and fend off a suave baronet, all while coping with the fact that it's always bathing suit season in Cyprus.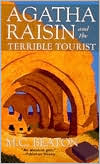 This was the unabridged audiobook on CD edition (5 discs/5.75 hours).
It was nice to see Agatha and James away from home. But James can be such a jerk! Really, Agatha should just give up on him - he doesn't seem to actually care for her, and he's constantly running off. Just let it go already!
I did miss Bill and the vicar's wife, though. But it was a nice vacation of sorts from the usual. Charles was a fun change in the story. It love that he's so cheap! And he's so funny that he doesn't care what people think and says exactly what he thinks. He's so very House. Perhaps not as hot though.
This one gets seven stars for the nice story and change of pace. It was very enjoyable and a great listen. Donada Peters did a lovely job, as usual, with the reading.
Rating: ★★★★★★
★
☆
☆
☆