Agatha Raisin's neighboring village of Ancombe is usually the picture of quiet English Cotswolds charm. Yet the arrival of a new mineral-water company, which intends to tap into the village spring, sends tempers flaring and divides the parish council into two stubborn camps. When Agatha, the new PR person for the company, finds the council chairman murdered at the basin of the spring, tongues start wagging. Could one of the council members have silenced the chairman before he could cast the deciding vote? Village gossip takes on a life of its own and Agatha must weed her way through the council members' alibis, promote the water company, and try to resurrect her love life, all while pretending she is over her ex-fiance, James Lacey.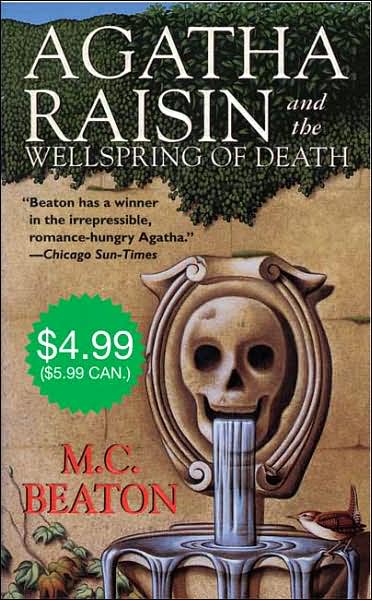 This was the unabridged
audiobook
on cassette edition (4 cassettes/5.75 hours).
As charming and witty as always this brought a smile to my lips many times while listening!
The
thought of James with dyed
blonde
hair and an earring was too
deliciously
amusing! And to add to that him throwing a grill over is just perfect!The vicar's wife was lovely as always. She is always so smart and tougher than one gives her credit for. Poor Bill and his latest love. I don't think I could stand up to Bill's parents either! It was interesting to see Roy's shallow self again. I certainly don't like him, but he was a nice addition.
This one gets seven stars.
Donada
Peters did a lovely reading job as usual. She gets all the characters just perfectly. The story itself was quite nice and a nice change from the usual James and Agatha partnership. And it was great to have Agatha back home again.
Rating: ★★★★★★
★
☆
☆
☆