With their engaging plots, mellow Scottish ambiance, and droll humor, the Hamish Macbeth mysteries always provide readers a bonnie time. The charming antics of their hopelessly unambitious and love-crossed hero have earned the series a dedicated following. Death of an Addict continues the Hamish Macbeth tradition of superb entertainment, with some fascinating twists.

When a recovering addict dies while recuperating near Lochdubh, our red-headed hero suspects foul play. To complete his investigation, Constable Macbeth must leave his idyllic home and travel to Amsterdam to match withs with big-time drug dealers.

Fans will enjoy seeing a new, tougher side of Macbeth as he dons smart suits and falls in love with is gorgeous superior officer. With her authentic accents and impeccable timing, narrator Davina Porter provides the perfect voice for this series' wonderfully quirky characters.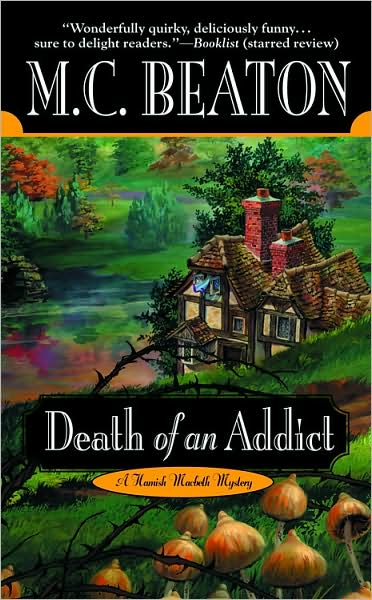 This was the unabridged audiobook on cassette edition (5 cassettes/6.25 hours).
Really, Blair continues to be simply unbelievable with his behavior! Daviot is typical management who can't see past all the brown-nosing to the incompetence and malice beneath.
It was actually a relief not to have the usual Priscilla drama going on. Although, poor Hamish and his visit with the "student" in Amsterdam! Only Hamish! Too funny! Olivia wasn't fabulous, but she was an interesting addition to the book. I can only imagine Priscilla in drug dealer's girlfriend chic. She'd probably have fun with it, but fool no one!
I wonder if the club Lackey's was a shout out to the Lackey characters on the
Hamish Macbeth
TV series that was airing around the time this was published. I'd like to think it was.
I just love Angela Brody! She seems like someone you'd really like to have as a friend despite her cooking skills!
This one gets seven stars. It was interesting to see Hamish abroad, almost like a vacation. Quite fun and entertaining, even with Blair's antics. Davina Porter did a lovely job, as usual. She makes listening to the Hamish Macbeth books a true pleasure.
Rating: ★★★★★★
★
☆
☆☆