In this magical sequel to Tasha Tudor's Garden, author Tovah Martin and photographer Richard W. Brown revisit Corgi Cottage, this time taking us inside to watch Tasha create the handmade items that are an integral part of her legendary nineteenth-century lifestyle.

Surrounded by authentic American antiques and collectibles and using original tools and almost forgotten techniques, Tasha spins flax, dyes wool, and weaves on one of her seven looms. With the help of friends, she dips candles, makes soap, and concocts herbal creams and lotions. She harvests wood for making baskets and fruit for canning, presses cider, and dries herbs and flowers.

Her Nubian goats supply her with milk for cheese and butter. Her bantam hens offer eggs for cooking and decorating. Stray feathers from her guinea hens end up as part of her toy owls. Her rambling cottage has its own marionette theatre and a built-in dollhouse, and all of the puppets and the dollhouse inhabitants were made by Tasha.

Whether Tasha is crocheting a piece of lace to edge her petticoat, sewing a dress copied from an 1830s pattern, knitting intricately designed mittens and socks, or working on a quilt, her hands are never idle. For this book, she has created a series of new paintings in the style that has made her one of America's best-loved children's book illustrators.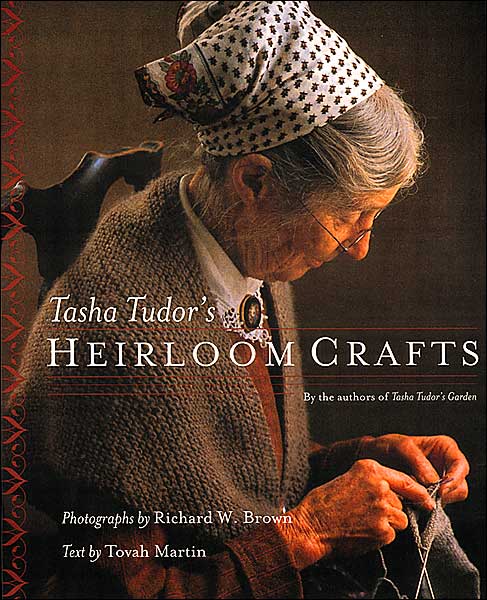 I must say that this Tasha Tudor book was infinitely better than the one by her daughter! It is by the same author and photographer as
Tasha Tudor's Garden
and is well presented. The text is quite readable and certainly does not make Tasha into some sort of saint.
The
photographs are also quite lovely.
This one gets seven stars for its readability and generous use of pictures which makes it
infinitely
more enjoyable.


Rating: ★★★★★★
★
☆
☆
☆