When a fortune-teller informs Agatha Raisin that her destiny - and true love - lies in Norfolk, she promptly rents a cottage in the quaint village of Fryfam. No sooner does she arrive than strange things start happening. Random objects go missing from people's homes and odd little lights are seen dancing in the villagers' gardens and yards. Stories soon begin circulating about the presence of fairies. But when a prominent resident is found murdered and some suspicion falls on her and her friend Sir Charles Fraith, Agatha decides she's had enough of this fairy nonsense and steps up her sleuthing for a human killer. The prickly yet endearing Agatha will have fans dangling in suspense: Will she catch her crook - and a husband?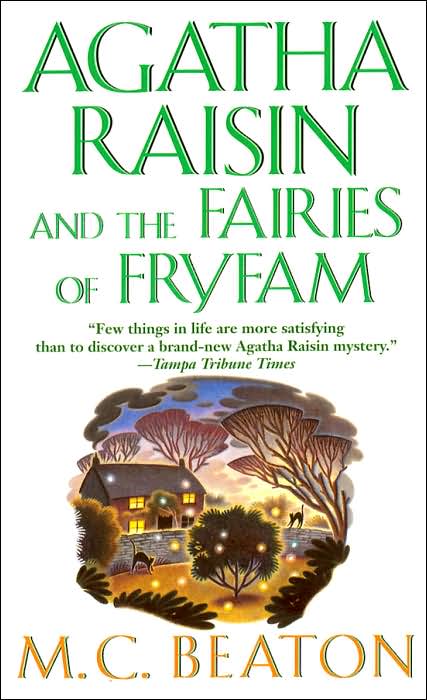 This was the unabridged audiobook on cassette edition (4 cassettes/5.5 hours).
Charles was his usual charming, quirky self. I do so prefer him over James. He is exponentially better! I do love that Agatha forgot Charles's name during their interaction at the hotel though! Too funny!
None of the Fryfam women struck me as particularly likable or memorable. They were okay, but not wonderful. On the other hand, the vicar is so funny when he complains about Agatha to his wife. You can just see them as a real couple!
The police always do seem to be so incompetent in these stories, and so rude when the mysteries are solved by amateurs. Really, they could at least be a
bit
grateful!
This one gets seven stars. It would have been nice to have Agatha at home as she seems to travel quite too much, but it was still good. I'm glad the mystery of where the Wyckhadden cat went was solved though as it was rather odd. Donada Peters did a beautiful job with the reading, as always.
Rating: ★★★★★★
★
☆
☆
☆