When Parsifal, a handsome and charming magician, dies suddenly, his widow Sabine - who was also his faithful assistant for twenty years - learns that the family he claimed to have lost in a tragic accident is very much alive and well. Sabine is left to unravel his secrets, and the adventure she embarks upon, from sunny Los Angeles to the bitter windswept plains of Nebraska, will works its own magic on her. Sabine's extraordinary tale captures the hearts of its readers just as Sabine is captured by her quest.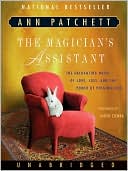 This was the unabridged
audiobook
on CD edition (10 discs/12 hours).
This was the book that would never end! It seriously took me about three months of off and on listening to slog through it. It was
so
slow moving! It wasn't even that good either, but I felt like I had to finish it since I'd gotten so far. It wasn't quite bad enough to give up on completely, but also not quite good enough that it made you want to hear more. Just completely neutral. At the end all I could think was, "Really? That's
it
? Are you kidding me?". It felt unresolved.
This one gets six stars. It was just marginal. It could have been so much better. Perhaps I just expected too much from it after reading the cover text. It just left me unsatisfied. The reader did do a good job though.
Rating: ★★★★★★
☆
☆
☆
☆