The delightfully cranky amateur detective Agatha Raisin returns in this mystery about a murdered curate. When Agatha Raisin's ex-husband James abandons her and she is humiliated by an unseemly proposition from her handsome neighbor John Armitage, she gives up on make-up and takes to waring the loose cotton dresses and flat sensible shoes that she has always abhorred. But then along comes Tristan Delon, Carsley's blue-eyed, blonde-haired new curate, beloved of the lady parishioners. And to Agatha's surprise, he even seems to take a special interest in her. But despite his many charms, there's something odd about the curate. When he turns up dead in the vicar's study, Agatha and John must join forces to investigate. Move over, Miss Marple.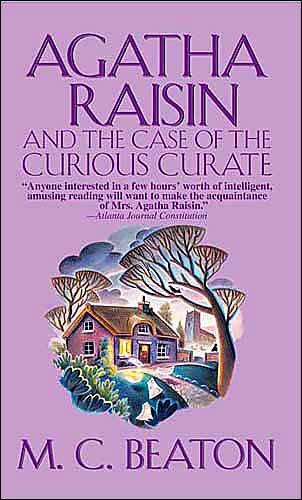 This was the unabridged audiobook on CD edition (5 CDs/5.75 hours).
For once I finally figured out who the culprit was before the book told me. It was rather obvious though, so perhaps my deductive skills aren't due that much credit!
John was a nice addition to the story and I will miss him if he does not return. He and Agatha seemed to make a rather good team, even if John's overactive tongue got them into an interesting situation! And even though I thoroughly dislike James I would like to find out what has happened to him!
And poor Bill with his lady troubles! If only Agatha were a bit younger, or Bill a bit older. Hmm. :)
And Tristan was a thoroughly disagreeable fellow. Really, he had no shame whatsoever with his behavior!
This one gets seven stars. I did enjoy it quite a bit, but I felt there was something lacking. I quite enjoyed John Armitage, and Bill's latest girl troubles, as well as Mrs. Bloxby's usual calm self. Donada Peters did a lovely job, as always, with the reading.
Rating: ★★★★★
★
★
☆
☆
☆