In 2004, Lloyd Kahn discovered a group of unique carpenters along the Pacific Coast of North America. Over a two-year period, he made four trips from his home in the San Francisco Bay Area. up the coast, shooting the photos that appear in this book.

To preserve the homeowners' privacy, specific locations are not given, but suffice to say this book focuses on the Pacific Coast north from San Francisco up to and around Vancouver Island, British Columbia, latitudes 37 to 49 degrees.

There's been a vortex of creative carpentry energy in this part of the world over the last 30 years. Many of the builders shown here got started in the countercultural era of the '60s and '70s, and their work has never been shown in books or magazine articles.

As in the author's previous books Shelter and Home Work, there are three featured builders: Lloyd House, master craftsman and designer who has created a series of unique homes on a small island; Bruno Atkey, builder of a number of houses and lodges built of hand-split cedar on "The Wild Coast" (the Pacific Ocean side of Vancouver Island), and SunRay Kelley, barefoot builder tuned into Nature, who has designed and built wildly imaginative structures in Washington, California, and other parts of the country. In addition, there are working homesteads, sculptural buildings of driftwood, homes that are beautiful as well as practical, live-aboard boats, gypsy-type caravans, and examples of stunning architectural design.

The two predominant features of the landscape here are water and wood. Most of these buildings are on or close to the sea. Islands are reached by ferries; it's a marine environment. And, there's an abundance of wood. Trees grow fast and tall in rainy Northwest forests; many of these buildings were constructed entirely from logs off the beach or trees from adjacent land.

You're invited to come along on these trips up and down the coast: going down these roads, riding the ferries, camping on the beaches, meeting these builders, and seeing their unique creations.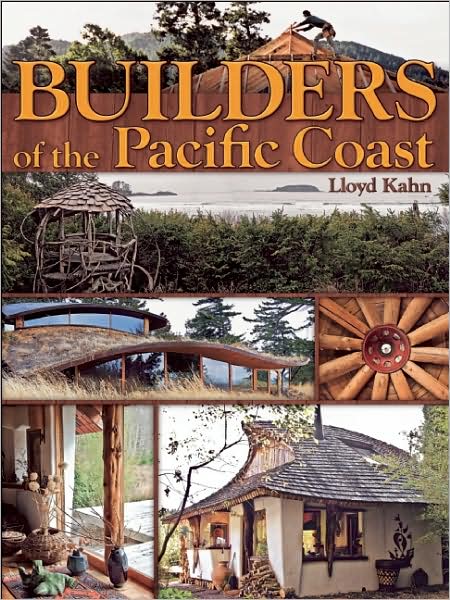 Lloyd Kahn, the author, generously provided a copy of this, his newest book, for review. I was really looking forward to it after reading
Home Work
and I was not disappointed!
What struck me immediately was how different, and yet similar, the Pacific coast feels from my own New England coast. The photos are all so lovely that you almost feel as if you are there, and can smell the sea air.
Every time I thought I'd found my favorite home in the book I turned the page and there was my new favorite! Each of the houses featured had that warm, welcoming feeling to them that no amount of money spent on professional interior decorating can buy. Their homeyness came through in the pictures perfectly.
My favorites from Lloyd House were his caravans, they just had a great feel to them, and the Baird House (pages 28 - 31). I especially liked the openness of the round main room in the Baird House.
SunRay Kelley's Temple (pages 64 - 71) was simply stunning in its beauty and grace. I love the idea of radiant heating in the sand, clay, and straw floor. The idea of a non-concrete floor seems so welcoming.
The Cordwood Cabin on page 207 was absolutely adorable and made me immediately want one! It was, as are most of the homes featured, immediately homey feeling.
I must also mention that the book is printed in the US on recycled paper which, according to the copyright page, saved the following over traditional printing: 14,000 lbs wood, 30 million BTUs of energy, 4,833 lbs greenhouse gasses, 2,654 lbs solid waste, 16,040 gallons water.
This one gets eight stars. It was simply stunningly photographed, as are all the author's books, and when I finished reading I felt like I almost knew these people. One thing that stories of the builders really illustrated was that everyone seemed so at peace and relaxed and joyful about their lives and their homes. You truly felt that all the hard work that went into these structures was worth every moment. The blood, sweat, and tears expended really gives them all a special something that McMansions just can't compete with. I can't wait for another release from the author!
Rating: ★★★★★★
★
★
☆
☆