I saw this feature on another blog and found it really cool so I figured I'd give it a try. Although, to keep up with all my library books is a chore! Most of them I don't read all the way through, but they're fun to skim, nonetheless.

So here goes this week's Library Loot!


Americans have ordered from Sears, Roebuck just about everything they have needed for their homes for 100 years - but from 1908 to 1940, some 100,000 people also purchased their houses from this mail-order wizard. Sears ready-to-assemble houses were ordered by mail and shipped by rail wherever a boxcar or two could pull in to unload the meticulously precut lumber and all the materials needed to build an exceptionally sturdy and well-designed house. From Philadelphia, Pa., to Coldwater, Kans., and Cowley, Wyo., Sears put its guarantee on quality bungalows, colonials and Cape Cods, all with the latest modern conveniences - such as indoor plumbing.

Houses by Mail tells the story of these precut houses and provides for the first time an incomperable guide to identifying Sears houses across the country. Arranged for easy identification in 15 sections by roof type, the book features nearly 450 house models with more than 800 illustrations, including drawings of the houses and floor plans.

Because the Sears houses were built to last, thousands remain today to be discovered and restored. Houses by Mail shows how to return them to their original charm while it documents a highly successful business enterprise that embodied the spirit and domestic design of its time.


---
Everyone dreams of having a cabin in the woods-a wood-hewn structure with all (or, at least, many of) the amenities of home tucked away on a mountaintop with an awe-inspiring view, or nestled on the shore of a trout-filled stream or bass-laden lake. Most people also believe that such a dream house is just that-the stuff of dreams, not affordable, not buildable without hiring a construction crew.Author J. Wayne Fears is here to tell you that such a dream cabin can be yours-at a price that won't break the bank. And he knows, because he has done it himself. In this, a guidebook to make dreams become reality, Fears covers-in words, photos, diagrams, and blueprints-all the important points, from buying the land, to planning your structure, to actually doing it-either on your own, or with some help. With special chapters on keeping your cabin clean and pest-free, as well as with valuable information on maintenance and repair, this book is one that every cabin owner - or potential owner - will keep as a reference for years to come.
---
During her two decades at The New England Journal of Medicine, Dr. Marcia Angell had a front-row seat on the appalling spectacle of the pharmaceutical industry. She watched drug companies stray from their original mission of discovering and manufacturing useful drugs and instead become vast marketing machines with unprecedented control over their own fortunes. She saw them gain nearly limitless influence over medical research, education, and how doctors do their jobs. She sympathized as the American public, particularly the elderly, struggled and increasingly failed to meet spiraling prescription drug prices. Now, in this bold, hard-hitting new book, Dr. Angell exposes the shocking truth of what the pharmaceutical industry has become–and argues for essential, long-overdue change.
Currently Americans spend a staggering $200 billion each year on prescription drugs. As Dr. Angell powerfully demonstrates, claims that high drug prices are necessary to fund research and development are unfounded: The truth is that drug companies funnel the bulk of their resources into the marketing of products of dubious benefit. Meanwhile, as profits soar, the companies brazenly use their wealth and power to push their agenda through Congress, the FDA, and academic medical centers.
Zeroing in on hugely successful drugs like AZT (the first drug to treat HIV/AIDS), Taxol (the best-selling cancer drug in history), and the blockbuster allergy drug Claritin, Dr. Angell demonstrates exactly how new products are brought to market. Drug companies, she shows, routinely rely on publicly funded institutions for their basic research; they rig clinical trials to make theirproducts look better than they are; and they use their legions of lawyers to stretch out government-granted exclusive marketing rights for years. They also flood the market with copycat drugs that cost a lot more than the drugs they mimic but are no more effective.
The American pharmaceutical industry needs to be saved, mainly from itself, and Dr. Angell proposes a program of vital reforms, which includes restoring impartiality to clinical research and severing the ties between drug companies and medical education. Written with fierce passion and substantiated with in-depth research, The Truth About the Drug Companies is a searing indictment of an industry that has spun out of control.
---
Homing Instinct
"This is the only book to show you how to approach the design and construction of a home that's affordable, durable, environmentally sound, well-sited, beautiful, and, above all, specifically tailored to your needs."—Michael J. Crosbie, Senior Editor, Architecture magazine (from the Foreword).
A uniquely personal, state-of-the-art guide to designing and building a home, Homing Instinct considers not only the roof, but the sky ... not only the placement of plumbing, but where the first light of dawn will enter the building ... not just ease of maintenance, but your home's impact on the planet.
Written by leading architect John Connell, founder of Yestermorrow Design/Build School, this richly detailed, forward-thinking book can help you create a house that perfectly expresses who you are physically, emotionally, and spiritually. The only book available that expertly combines both design and construction how-tos, Homing Instinct helps you: See how things really work, from foundation and framing, to plumbing and electricity, to selecting the right materials and products; Understand the latest construction options; Resolve questions of cost, durability, design, intent, and self-expression; Master architectural fundamentals and effective building techniques.
---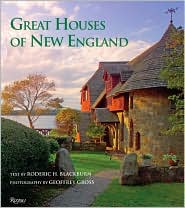 In the tradition of Rizzoli's Historic Houses of the Hudson Valley and The Houses of McKim, Mead & White, Great Houses of New England features a stunning array of newly photographed houses that range over four centuries and are distinctive examples of the architecture of the region—from the mid-seventeenth-century New England Colonial Judge Corwin House (Witches House) in Salem, MA., and the eighteenth-century Jeremiah Lee Mansion in Marblehead, MA., to the late-nineteenth-century McKim, Mead & White Shingle-Style Isaac Bell House in Newport, R.I. With lavish photography of sumptuously appointed interiors including many rarely seen rooms, wonderfully detailed house exteriors and gardens, and authoritative text by architectural historian Roderic H. Blackburn, Great Houses of New England comprehensively considers the magnificent building styles of the region—including Early New England Colonial, Georgian, Federal, Greek Revival, Gothic Revival, Italianate, Shingle Style, Colonial Revival, and Tudor. Great Houses of New England is a landmark work of enduring interest to homeowners, architects, architecture historians, and all those who love fine architecture and interiors.