Mailbox Monday is hosted by The Printed Page and is where we share all the books we received in the mail over the past week.

I get an absolutely insane number of books for myself, my aunt, and my friends abroad each week, but I'm going to try to give this Mailbox Monday thing a chance for a couple weeks. :)



Parker didn't expect to find his next great magazine story sleeping off a hangover in the back seat of his car. The homeless woman, Cleo, says she never wakes after dawn, which makes Parker curious. His intuition for finding a unique story is buzzing after meeting Cleo, and he decides to interview her to find out what drove her to live on the streets. Cleo explains how the early death of her first love set the path for her life. She withdraws from the world after he dies, only to re-enter it by going to a strange club called the Beacon. At the underground club, the patrons channel spirits on the improv stage and share psychic readings in the room behind the beaded curtain. While Cleo describes her spiritual awakening, Parker wonders if she actually fell prey to mental illness. Because of a first article Parker wrote about Cleo, another reporter is after the story, blackmailing Parker to give it up. Parker must decide how to keep his story and not let Cleo down in the process.

E-book received from the author for review.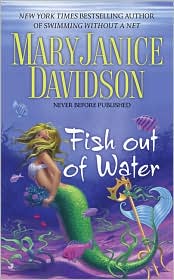 Fred the Mermaid has taken the bait and chosen to date Artur, Prince of the Black Sea, over human marine biologist Thomas. And just in time. The existence of the Undersea Folk is no longer a secret, and someone needs to keep them from floundering in the media spotlight. Fred has all the right skills for that job, but has a hard time when her real father surfaces and tries to overthrow Artur's regime.

From BookMooch for my TBR.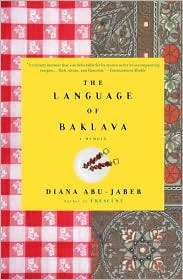 Diana Abu-Jaber's vibrant, humorous memoir weaves together stories of being raised by a food-obsessed Jordanian father with tales of Lake Ontario shish kabob cookouts and goat stew feasts under Bedouin tents in the desert. These sensuously evoked repasts, complete with recipes, in turn illuminate the two cultures of Diana's childhood–American and Jordanian–while helping to paint a loving and complex portrait of her impractical, displaced immigrant father who, like many an immigrant before him, cooked to remember the place he came from and to pass that connection on to his children. The Language of Baklava irresistibly invites us to sit down at the table with Diana's family, sharing unforgettable meals that turn out to be as much about "grace, difference, faith, love" as they are about food.

For a friend abroad.






Sarah Moon tackles life's issues with a sharp wit in her syndicated comic strip, Just Breathe. With both Sarah and her cartoon heroine undergoing fertility treatments, her fiction often reflects her reality. However, she hadn't scripted her husband's infidelity.

In the wake of her shattered marriage, Sarah flees to the coastal town in California where she grew up. There, she revisits her troubling past: an emotionally distant father, the loss of her mother and an unexpected connection with Will Bonner, the high school heartthrob skewered mercilessly in her comics. But he's been through some changes himself. And just as her heart is about to reawaken, Sarah makes a most startling discovery. She's pregnant. With her ex's twins.

The winds of change have led Sarah to this surprising new beginning. All she can do is just close her eyes…and breathe.

For my aunt.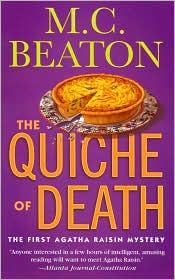 Putting all her eggs in one basket, Agatha Raisin gives up her successful PR firm, sells her London flat, and samples a taste of early retirement in the quiet village of Carsely. Bored, lonely and used to getting her way, she enters a local baking contest: Surely a blue ribbon for the best quiche will make her the toast of the town. But her recipe for social advancement sours when Judge Cummings-Browne not only snubs her entry—but falls over dead! After her quiche's secret ingredient turns out to be poison, she must reveal the unsavory truth…

Agatha has never baked a thing in her life! In fact, she bought her entry ready-made from an upper crust London quicherie. Grating on the nerves of several Carsely residents, she is soon receiving sinister notes. Has her cheating and meddling landed her in hot water, or are the threats related to the suspicious death? It may mean the difference between egg on her face and a coroner's tag on her toe…

For my aunt.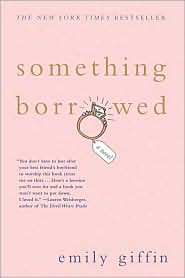 Rachel has always been a good girl--until her thirtieth birthday, when her best friend Darcy throws her a party. That night, after too many drinks, Rachel ends up in bed with Darcy's fiancé Dex. Rachel is horrified to discover that she has genuine feelings for Dex. She prays for fate to intervene, but when she makes a choice she discovers that the lines between right and wrong are blurry, endings aren't always neat, and you have to risk all to win true happiness.

Received from GoodReads for a review.











When her last two plays are dismal failures and her relationship with her temperamental mentor falls apart, writer Bree O'Brien abandons Chicago and the regional theater where she hoped to make a name for herself to return home. Opening Flowers on Main promises to bring her a new challenge and a new kind of fulfillment.

But not all is peaceful and serene in Chesapeake Shores, with her estranged mother on the scene and her ex-lover on the warpath. Jake Collins has plenty of reasons to want Bree out of his life, but none of those are a match for the one reason he wants her to stay: he's still in love with her.

Jake might be able to get past that old hurt if he knew Bree was home to stay, but is she? The only way to know for sure is to take a dangerous leap of faith.

For my aunt.