Adventures. Jane is twelve years old and she is ready for them. She yearns to move beyond the world of her younger siblings and single mother and their cozy house by the sea and to step into the "know-not-what" - the place where your heart buzzes with excitement and things happen.

And over the summer, whether she loos for them or not, adventures keep finding Jane. There's the thrilling solo ride in a hijacked hot-air balloon, the out-of-the-blue appearance of a slew of possible fathers, a weird new friendship with Nellie Phipps, preacher and wannabe psychic, the accidental crime Jane may have committed involving a Bible and a baby named Gourd, and finally, her discovery of the truth that lies at the heart of all great adventures: that it's not what happens to you that matters, but what you learn about yourself.

National Book Award and Newbery Honor winner Polly Horvath has written her richest, most spirited book yet, filled iwth characters that readers will love and never forget.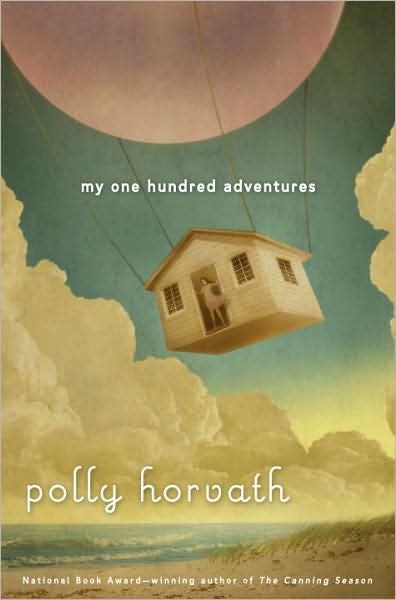 This seemed to be rather literary for a children's book aimed at 8 to 12 year olds. Maybe pre-teens have excellent vocabularies a la Clueless, but it still felt off to me. Sort of how the edited for television version of an R rated movie just isn't the same.
There was also an unnecessary religious tone to the book, with constant talk of God, church, and Hell. It was rather disconcerting to find in a children's book. The incessant talk of prayers and greed and sin were just uncalled for in what I thought was supposed to be a light children's book about adventures.
I did find one good passage in the entire book, which came in the first chapter:
"The library in summer is the most wonderful thing because there you get books on any subject and read them each for only as long as they hold your interest, abandoning any that don't, halfway or a quarter of the way through if you like, and store up all that knowledge in the happy corners of your mind for your own self and not to show off how much you know or spit it back at your teacher on a test paper."
This one gets five stars. I certainly did not find the book "...filled with characters that readers will love and never forget.". I actually did not really like the characters and forgot about them almost as I was reading about them. They were totally forgettable and boring! This was one of those books that I kept reading even though it wasn't even that good and I didn't even particularly like it. I kept wondering if I should just five up on it, but decided that since I'd made it so far and it was a fast read that I may as well suck it up and finish it. I was not impressed at all with the book in general and I will certainly not be reading any of the authors other books in the future. I really cannot recommend this to anyone.
Rating: ★★★★★
☆
☆
☆
☆
☆