The Power of Less is a blueprint for taking our lives back from the clutter, noise, and unnecessary work that fills a modern day. Leo Babauta offers simple, concise steps for increased productivity and efficiency while teaching the art of working simply.

From streamlining your e-mail to managing your daily tasks to developing specific steps to achieve your goals, The Power of Less is the user manual to the work life you deserve.

In the tradition of The 4-Hour Workweek, Babauta's lessons enable you to do less, be more effective, get more done, and simplify your life.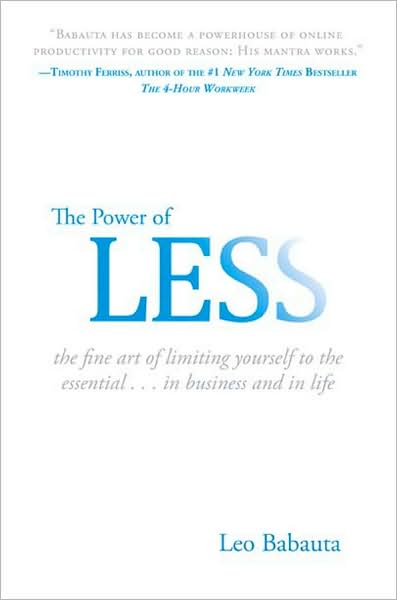 This was a nice little book. It was full of great information, and presented in an easy to digest format.
The author advocates single-tasking instead of multi-tasking for maximum impact, which completely makes sense if one thinks about it and tries it.
This one gets eight stars. It had a great, easy flow to it, making it super easy to read. The pages were clean, with no extraneous information to interrupt the flow, adding to the reading pleasure. The book itself was just the perfect sized hardcover to read without it being too cumbersome. The author did an excellent job presenting the information in a clean, concise format. The information itself was helpful and easy to implement.
Rating: ★★★★★★
★
★
☆
☆