Here goes this week's Library Loot!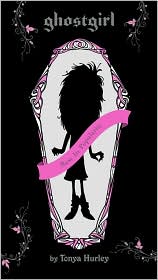 Now I lay me down to sleep,
I pray the Lord my soul to keep.
And if I should die before I awake,
I pray the popular attend my wake.
Charlotte Usher feels practically invisible at school, and then one day she really is invisible. Even worse: she's dead. And all because she choked on a gummy bear. But being dead doesn't stop Charlotte from wanting to be popular; it just makes her more creative about achieving her goal.
If you thought high school was a matter of life or death, wait till you see just how true that is. In this satirical, yet heartfelt novel, Hurley explores the invisibility we all feel at some times and the lengths we'll go to be seen.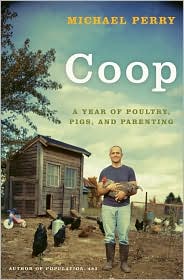 In over his head with two pigs, a dozen chickens, and a baby due any minute, the acclaimed author of
Truck: A Love Story
gives us a humorous, heartfelt memoir of a new life in the country.
Last seen sleeping off his wedding night in the back of a 1951 International Harvester pickup, Michael Perry is now living in a rickety Wisconsin farmhouse. Faced with thirty-seven acres of fallen fences and overgrown fields, and informed by his pregnant wife that she intends to deliver their baby at home, Perry plumbs his unorthodox childhood—his city-bred parents took in more than a hundred foster children while running a ramshackle dairy farm—for clues to how to proceed as a farmer, a husband, and a father.
And when his daughter Amy starts asking about God, Perry is called upon to answer questions for which he's not quite prepared. He muses on his upbringing in an obscure fundamentalist Christian sect and weighs the long-lost faith of his childhood against the skeptical alternative ("You cannot toss your seven-year-old a copy of Being and Nothingness").
Whether Perry is recalling his childhood ("I first perceived my father as a farmer the night he drove home with a giant lactating Holstein tethered to the bumper of his Ford Falcon") or what it's like to be bitten in the butt while wrestling a pig ("two firsts in one day"), Coop is filled with the humor his readers have come to expect. But Perry also writes from the quieter corners of his heart, chronicling experiences as joyful as the birth of his child and as devastating as the death of a dear friend.
Alternately hilarious, tender, and as real as pigs in mud, Coop is suffused with a contemporary desire to reconnect with the earth, with neighbors, with meaning . . . and with chickens.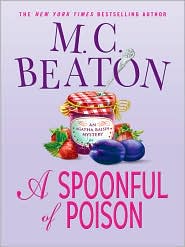 Agatha Raisin's detective agency has become so successful that now all she wants is some R&R. But as soon as she cuts back her hours, Agatha remembers that when she has too much quality time, she doesn't know what to do with it. So it doesn't take much for the vicar of a nearby village to persuade her to help publicize the church fête—especially when the fair's organizer, George Selby, happens to be a gorgeous widower. Problem is: Several of the offerings in the jam-tasting booth turn out to be poisoned…and the festive family event soon becomes a murder scene. Now Agatha must uncover the truth behind the jam tampering and expose the nasty secrets lurking in the seemingly innocent village—all while falling for handsome George, who may just have some secrets of his own.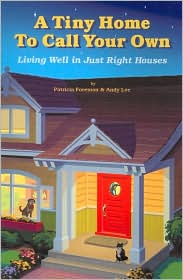 Both Foreman and Lee are licensed contractors in Virginia. They have been building tiny houses—ranging from 300 to 1,000 square feet in size—for 15-plus years and are active in promoting conservation subdivisions, cluster housing, and ecologically healthy home construction. Following discussion of what a tiny house is and the type of people tiny houses suit, they present examples of houses and housing communities they have built to explain the issues and considerations to be taken into account, as well as the many benefits to be realized by those who choose a tiny home.

William Coperthwaite is a teacher, builder, designer, and writer who for many years has explored the possibilities of true simplicity on a homestead on the north coast of Maine. In the spirit of Henry David Thoreau, Emily Dickinson, and Helen and Scott Nearing, Coperthwaite has fashioned a livelihood of integrity and completeness - buying almost nothing, providing for his own needs, and serving as a guide and companion to hundreds of apprentices drawn to his unique way of living.
A Handmade Life
carries Coperthwaite's ongoing experiments with hand tools, hand-grown and gathered food, and handmade shelter, clothing, and furnishings out into the world to challenge and inspire. His writing is both philosophical and practical, exploring themes of beauty, work, education, and design, while giving instruction on hand-crafting the necessities of life: house, tools, clothing, and furniture. Richly illustrated with luminous color photographs by Peter Forbes, the book is a testament to a new/old way of life.

Tiny Houses
contains the plans for forty-four houses so small that anyone can afford to have one—and so thoughtfully designed that anyone can build one—each offering the dream of solitude, a place to escape for a weekend of romance, meditation, or whimsy. Award-winning architect Lester Walker shows how, with a little energy and imagination, everyone's dream of owning a home, or having a second home in the country, is within reach.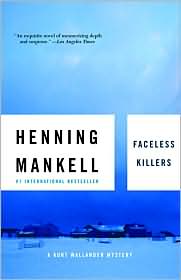 First in the Kurt Wallander series.
It was a senselessly violent crime: on a cold night in a remote Swedish farmhouse an elderly farmer is bludgeoned to death, and his wife is left to die with a noose around her neck. And as if this didn't present enough problems for the Ystad police Inspector Kurt Wallander, the dying woman's last word is foreign, leaving the police the one tangible clue they have–and in the process, the match that could inflame Sweden's already smoldering anti-immigrant sentiments.
Unlike the situation with his ex-wife, his estranged daughter, or the beautiful but married young prosecutor who has peaked his interest, in this case, Wallander finds a problem he can handle. He quickly becomes obsessed with solving the crime before the already tense situation explodes, but soon comes to realize that it will require all his reserves of energy and dedication to solve.
Baking expert Flo Baker rises to the occasion with more than 200 celebration-worthy recipes for baked goods. Whether it's an impressive Dark Chocolate Custard Tart to wish someone a happy birthday, a blue ribbon-worthy batch of Fresh Mint Brownies for the annual family reunion, or an Old World Braided Coffee Cake to impress the Bridge Club, each recipe is custom-crafted to commemorate life's special events. Lots of introductory information on techniques and ingredients ensure that each treat will be baked to perfection, making this a fabulous reference for any cookbook library. Baking for all Occasions makes each day something to celebrate.

SIMPLE SHELTERS, COZY COTTAGES, HUMBLE HIDEAWAYS
Wonderfully illustrated with hundreds of photographs and scale drawings, a little house of my own is an exploration of a unique and eccentric fascination: the tiny home. Featuring Henry David Thoreau's Cabin at Walden, the Fredericksburg Sunday House, George Bernard Shaw's rotating Writing Hut, the Cape Cod Dune Shack and many more, it's a charming collection for anyone who's ever wanted to get away from it all-and still have it all under one roof.