Mailbox Monday is hosted by The Printed Page and is where we share all the books we received in the mail over the past week.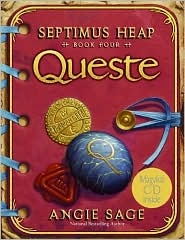 There's trouble at the Castle, and it's all because Merrin Meredith has returned with Darke plans for Septimus. More trouble awaits Septimus and Jenna in the form of Tertius Fume, the ghost of the very first Chief Hermetic Scribe, who is determined to send Septimus on a deadly Queste. But Septimus and Jenna have other plans—they are headed for the mysterious House of Foryx, a place where all Time meets and the place where they fervently hope they will be able to find Nicko and Snorri, who were trapped back in time in physik. But how will Septimus escape the Queste?

Queste, like all the books in the Septimus Heap series, is filled with nonstop action, humor, and fantastical adventure as Septimus continues his journey of Magykal self-discovery.

For a friend abroad.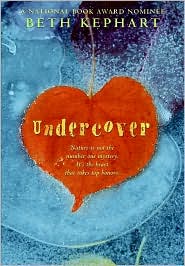 Like a modern-day Cyrano de Bergerac, Elisa ghostwrites love notes for the boys in her school. But when Elisa falls for Theo Moses, things change fast. Theo asks for verses to court the lovely Lila—a girl known for her beauty, her popularity, and a cutting ability to remind Elisa that she has none of these. At home, Elisa's father, the one person she feels understands her, has left on an extended business trip. As the days grow shorter, Elisa worries that the increasingly urgent letters she sends her father won't bring him home. Like the undercover agent she feels she has become, Elisa retreats to a pond in the woods, where her talent for ice-skating gives her the confidence to come out from under cover and take center stage. But when Lila becomes jealous of Theo's friendship with Elisa, her revenge nearly destroys Elisa's ice-skating dreams and her plan to reunite her family.

National Book Award nominee Beth Kephart's first young adult novel is a stunning debut.

For a friend abroad.






A spy thriller, a love story and a chilling look at a resurgent superpower...

At the dawn of the new millennium, Finn, an MI6 spy, and Anna, a colonel of the KGB, have been sent to spy on each other. Instead they find a love that becomes to only truth they can trust. A source deep within the Kremlin tells Finn of a plan, hatched in the depths of the Cold War, to dismantle the edifice of the communist state and to bring about the rise of a new imperium within Russia: a plan to control the whole of Europe. Finn's masters in London are blinded by the new wealth pouring out of Russia and he must leave the Service and work in secrecy to uncover the deadly threat it poses to the freedom of every one of us.

ARC received from the publisher for review.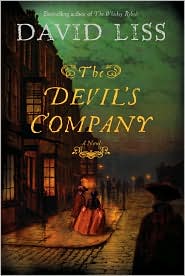 With The Whiskey Rebels, David Liss added to the rapidly growing audience for his extraordinary brand of historical suspense fiction. His unforgettable tale of spies and conspiracies in post-Revolutionary War America was a "gripping, visceral adventure," according to New York Times bestselling author Matthew Pearl. Now Liss delivers another riveting historical suspense tale — this one set in 1700s London.

When Benjamin Weaver is blackmailed into stealing documents from the ruthless British East India Company, he soon discovers the theft of trade secrets is only the first move in a daring conspiracy within the eighteenth century's most powerful corporation. To save his friends and family, Weaver must infiltrate the Company, navigate its warring factions, and uncover a secret plot of corporate rivals, foreign spies, and government operatives. With the security of the nation in the balance, Weaver will find himself in a labyrinth of hidden agendas, daring enemies, and unexpected allies.

With explosive action and scrupulous period research, The Devil's Company depicts the birth of the modern corporation, and is Liss's most impressive achievement yet.

ARC received from the publisher for review.