Mailbox Monday is hosted by
The Printed Page
and is where we share all the books we received in the mail over the past week.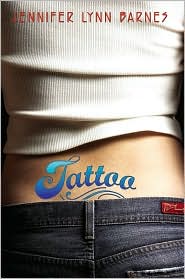 Bailey Morgan isn't the type of girl who shows a lot of skin, but somehow, she ends up in a dressing room at the mall with her friend Delia applying a temporary tattoo to her lower back. Never one to suffer fashion doubt, trendsetter Delia knows exactly where she wants her own tattoo: on her stomach, right where her shirt ends—can you say "midriff"? Annabelle, the quiet one, chooses the back of her neck, and tomboy Zo plasters hers on the top of her foot. The tattoos will last for three days, and Delia's sure that with them, the four friends will absolutely kill at the school dance.
Unfortunately, killing is just what someone has in mind, and Bailey, Delia, Annabelle, and Zo are in for the battle of their lives. Along with her tattoo, each girl receives a gift—a supernatural power to help them in their fight. As Bailey's increasingly frightening dreams reveal the nature of their enemy, it becomes clear to the girls that it's up to them to save the world. And if they can get Delia to stop using her newfound power to turn gum wrappers into Prada pumps, they might actually stand a chance.

For a friend abroad.




Carlyle Hudson is a 50-something woman everybody calls Lyle. She speaks for herself in the opening paragraph of the women's detective mystery, For Glory:
"I deal with other people by keeping secrets. Bottom line: I do not like people knowing what I do for a living, how much money I make, my age, or marital status. The answers—gamble, six to seven figures (depending on how well the cards fall), fifty, and not interested in marriage—always raise more questions. Even well-intentioned people seem to feel entitled to that information, which irritates the hell out of me. So I lie. It entertains me, keeps my energy positive and my creativity high.... I think of it as acting. All good poker players act. I am a very good poker player."
Lyle returns to Kansas from San Francisco after the death of her mother to encounter two mysteries: one from her mother's past, and one right in front of her. Who is the source of the ominous demands that she "Pay Up"?
This "lite" mystery is humor-filled, a flirty-50s popular fiction for boomers. It will delight women's detective mystery readers who enjoy more mature characters.
Received from the author for review.
Dozens of children respond to this peculiar ad in the newspaper and are then put through a series of mind-bending tests, which readers take along with them. Only four children-two boys and two girls-succeed. Their challenge: to go on a secret mission that only the most intelligent and inventive children could complete. To accomplish it they will have to go undercover at the Learning Institute for the Very Enlightened, where the only rule is that there are no rules. But what they'll find in the hidden underground tunnels of the school is more than your average school supplies. So, if you're gifted, creative, or happen to know Morse Code, they could probably use your help.
For a friend abroad.