First in the Kurt Wallander series. It was a senselessly violent crime: on a cold night in a remote Swedish farmhouse an elderly farmer is bludgeoned to death, and his wife is left to die with a noose around her neck. And as if this didn't present enough problems for the Ystad police Inspector Kurt Wallander, the dying woman's last word is foreign, leaving the police the one tangible clue they have–and in the process, the match that could inflame Sweden's already smoldering anti-immigrant sentiments. Unlike the situation with his ex-wife, his estranged daughter, or the beautiful but married young prosecutor who has peaked his interest, in this case, Wallander finds a problem he can handle. He quickly becomes obsessed with solving the crime before the already tense situation explodes, but soon comes to realize that it will require all his reserves of energy and dedication to solve.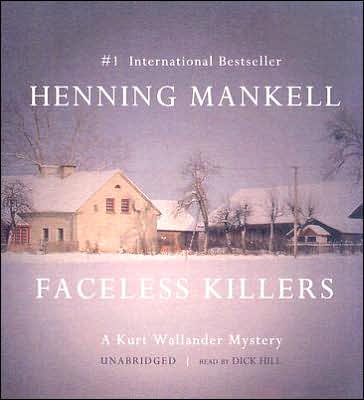 This was the unabridged audiobook on CD edition (7 CDs/8.5 hours).
After seeing the three
Wallander specials on PBS Masterpiece Mystery
I decided (with gentle nudging from a friend) to try reading the books. I was hesitant, since I did like the specials, but I'm glad I capitulated.
This was a translation, obviously, but it was such a good translation that it didn't really
feel
like a translation at all.
It was a bit irritating that there were no real descriptions of what people looked like, which made it difficult to differentiate between the characters and really identify with them as individuals without more information. The names were also difficult, but the name issue was made significantly better since I listened to it rather than reading it.
The reader was rather stilted at points which could be distracting, but he was still quite good. I recognized his voice from Dean Koontz's
Strangers
and I remember he was rather stilted there as well.
This one gets seven stars. It was a good, solid story but it did drag on a bit at points. I think it helped that I'd seen the PBS specials before reading the books to at least get a vague idea of the characters, especially Wallander and his daughter Linda. Dick Hill did a nice job with the reading.
Rating: ★★★★★★★☆☆☆