In the tradition of Rizzoli's Historic Houses of the Hudson Valley and The Houses of McKim, Mead & White, Great Houses of New England features a stunning array of newly photographed houses that range over four centuries and are distinctive examples of the architecture of the region—from the mid-seventeenth-century New England Colonial Judge Corwin House (Witches House) in Salem, MA., and the eighteenth-century Jeremiah Lee Mansion in Marblehead, MA., to the late-nineteenth-century McKim, Mead & White Shingle-Style Isaac Bell House in Newport, R.I. With lavish photography of sumptuously appointed interiors including many rarely seen rooms, wonderfully detailed house exteriors and gardens, and authoritative text by architectural historian Roderic H. Blackburn, Great Houses of New England comprehensively considers the magnificent building styles of the region—including Early New England Colonial, Georgian, Federal, Greek Revival, Gothic Revival, Italianate, Shingle Style, Colonial Revival, and Tudor. Great Houses of New England is a landmark work of enduring interest to homeowners, architects, architecture historians, and all those who love fine architecture and interiors.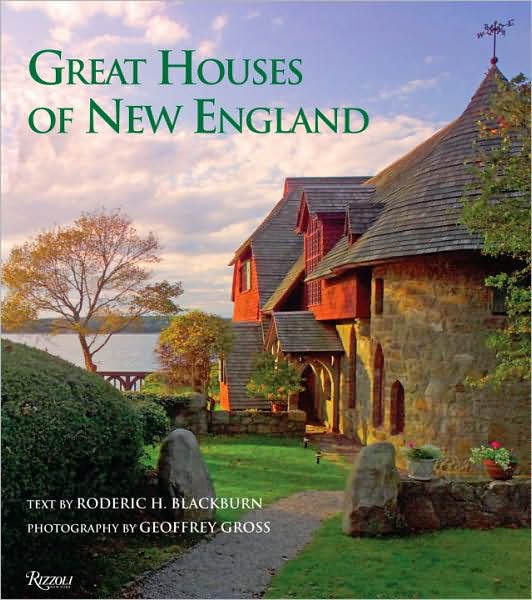 I was sure this one was going to be a yawner as the introduction was quite dry and boring. Obviously the proofreader slept through it also since there were numerous obvious typos throughout the text and captions.
It was a bit surprising to discover just how bright and colorful some of the interiors of the homes were. I guess I always thought of old homes as dark and bare. One would certainly need a team of house servants to keep up with all the maintenance. The curtains alone made me shudder thinking of the work involved!
I was happily enjoying the description of the Justin Smith Morrill Homestead (pages 152 to 163) until I came across the unfortunate tidbit (on page 160) that he was the ...
individual
who "engineered the first national income tax to help fund the Civil War." Great. Now whenever I see anything from the lovely IRS and grind my teeth in sheer hatred I'll remember that idiot's opulent home.
My favorite house was Stonehurst (pages 176 to 187) in Waltham, MA. The stone and wood have such a warm feel to them - immediately invoking the warmth of home.
This one gets seven stars. While the text is bland and infinitely technical at points, leaving me wondering if it was ever meant to be read, the photography made up for it. Geoffrey Gross did a stunning job photographing the homes and getting their character to shine through. The selection of homes from each New England state was inspired as well.
Rating: ★★★★★★★☆☆☆