Conn should have dropped dead the day he picked Nevery's pocket and stole the wizard's locus magicalicus, a stone used to focus magic and work spells. But for some reason he did not. Astonished and intrigued, Nevery agrees to take Conn on as his apprentice, on the condition that the boy find a locus stone of his own within a month.

But with his wizard lessons and helping Nevery discover who - or what - is stealing the city of Wellmet's magic, time is running out for Conn to find his stone.

In her sweeping debut novel, Sarah Prineas has imagined a richly detailed magical world like no other you've encountered before. She transports us to a city run on living magic, and draws us irresistibly into the adventures of an unpredictable wizard and a clever young hero who is as able at picking locks as he is at learning magic.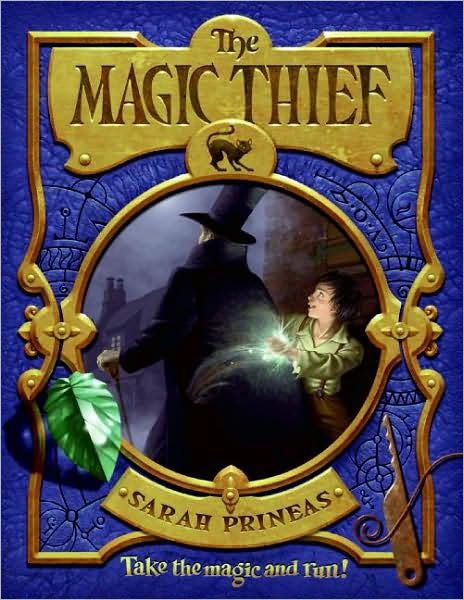 This was a perfectly sized, squat hardcover which was the perfect size for reading comfortably!
After all the talk of biscuits throughout the story I was so ready to whip out my Betty Crocker cookbook (this was no situation for Martha Stewart) and make a batch - even though it was close to midnight when I finished the book! I finally decided against it and was thrilled to discover the recipe for
Benet's Biscuits
at the end of the book. I tried them the very next day and they were quite good! Of course, I've never met a biscuit I didn't like!
This one gets eight stars. I was quite impressed with the readabilty and story quality and am looking forward to the remaining two books in the trilogy. The characters were likable and grew on you. While some of the words, such as
magicalicus
were rather unwieldy while reading, the vast majority of the text flowed well. I definitely recommend this highly for children and adults alike!
Rating: ★★★★★★★★☆☆