Douglas Preston fulfilled a lifelong dream when he moved with his family to a villa in Florence. Upon meeting celebrated journalist Mario Spezi, Preston was stunned to learn that the olive grove next to his home had been the scene of a horrific double murder committed by one of the most infamous figures in Italian history. A serial killer who ritually murdered fourteen young lovers, he has never been caught. He is known as the Monster of Florence.

Fascinated by the tale, Preston began to work with Spezi on the case. Here is the true story of their search to uncover and confront the man they believe is the Monster. In an ironic twist of fate that echoes the dark traditions of the city's bloody history, Preston and Spezi became targets of a bizarre police investigation.

With the gripping suspense of Preston's bestselling novels, The Monster of Florence tells a remarkable and harrowing chronicle of murder, mutilation, suicide, and vengeance - with Preston and Spezi caught in the middle.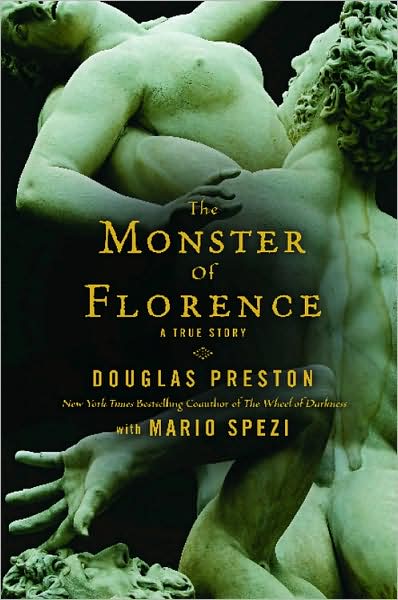 This was the unabridged audiobook on CD edition (8 CDs/9.5 hours).
This was my first experience with Richard Preston, and Mario Spezi for that matter, and I really enjoyed the author's voice. It was funny and descriptive and brought what could have been a dry story to life. The reader, Dennis Boutsikaris, was also wonderful and really made the book an enjoyable experience.
This one gets eight stars. While it was rather lengthy feeling at times it drew you in and held your attention to the very end. The characters involved were at once so funny and bizarre that they really are stranger than fiction. The police bumbling of the investigation would have been comical if it weren't so pitiful! I especially enjoyed the author's trivia tidbit that there are estimates that 1 in 3 Florence babies were conceived in a car!
Rating: ★★★★★★★★☆☆