Impress your neighbors with style and freedom rather than with larger-scale impersonally built square footage. Small is beautiful in housing. Smaller scale homes can be more livable, cozy, magical, homey, enjoyable, low maintenance and easy to clean. They can be more affordable and socially responsible than the current trend of "MacMansionization" that is chewing up our farm land. Some tiny homes can be built on existing lots without requiring new land purchase.

You can live in an attractive, appealing, upscale house AND have a home that is quality built, architecturally beautiful, highly marketable and profitable. Uses for tiny homes include:
A home for anyone who wants less space to take care of in exchange for more time, freedom and money.
As a personal "get away" or "away space", home office, professional work space, writer's or artist's studio, or rental for passive income.
For an elderly parent, student or return-to-the-nest kid to have an independent place of their own, yet be close by.


Tiny Homes is leading a grass-roots movement toward smaller homes. It shows that small is beautiful in housing.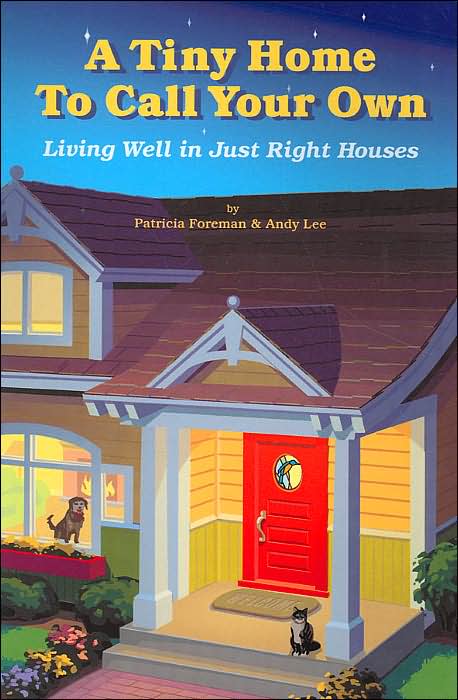 There was a great deal of extraneous information in the book, such as sections on remodeling a 1,600 square foot home to almost double its size which was totally inapplicable to 99% of the readers. The book also seemed to be aimed towards the upper middle class, which was unfortunate. They kept mentioning how the size of your home doesn't mean that you're not rich and that most of their clients can afford to buy whatever size house they want but they choose to buy small homes, etc. I mean, come on!
This one gets six stars. While it was a fast read, it was badly proofread with numerous typos and formatting errors. If the authors are going to sell their slim paperback for over $20, they should at least fork out the cash to get it professionally proofread! In addition, a large portion of the homes discussed were created by Tiny Homes Inc. - the owners of which wrote the book, which meant that at times it almost read like a catalog of their products. The book does contain some beneficial information, but it is more an advertisement for the author's website and company than truly to help people.

Rating: ★★★★★★☆☆☆☆