Today I'd like to welcome Eric Greitens, author of Strength & Compassion, who will be doing a short guest post!


---
From Eric:
I'd like thank you very much for allowing me the opportunity to speak to you and your readers. It has been a truly wonderful experience sharing the stories in Strength & Compassion, and I am delighted to share the story of creating Strength & Compassion itself with you and your readers.
Strength and Compassion began as a box of undeveloped negatives from my humanitarian work – from Mother Teresa's Home for the Destitute and the Dying in India, to the Project for Unaccompanied Children in Exile in Croatia, to the refugee camps of Rwanda. Originally, I did not plan on creating a book. But as I began to share the photographs at conferences and gatherings, audiences began to connect with the people and stories behind the photographs.
When I first embarked on putting the book together, I never expected it to get the response that it did – ForeWord Magazine's Book of the Year award or the Grand Prize at the New York Book Festival! I am so fortunate that this book is continuing to touch people. I have been particularly pleased with the responses of Paul Rusesabagina (manager of the Hotel Mille Collines during the 1994 genocide, and inspiration for the film Hotel Rwanda) and Bobby Mueller (co-founder of the International Campaign to Ban Landmines), two men who have contributed to the book because of its inspiration and beauty.
Strength and Compassion is really a book about what we can learn from others – their strengths can move us to find our own. The situations of many of the different people featured in the book, such as refugees in the wake of the Rwandan genocide or the extreme poverty of indigenous people in Chiapas, Mexico, are those of incredible hardship, rough circumstances, and even great evil. And yet, the people of these places aren't waiting for their lives to change. These essays document people who show incredible strength, courage, and faith; people from whom we can learn the true meaning of these virtues. These pictures are of people whose stories should break your heart, but instead, the pictures actually act to inspire, and leave one with a feeling of hope.
I hope that you stop by www.strengthandcompassion.com and check it out!
---
About Strength & Compassion: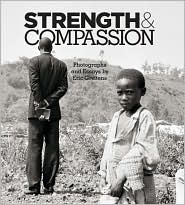 This collection brings together the best of Eric Greitens' award-winning international humanitarian photography work with a striking series of essays. Engaging photographs from Rwanda, Cambodia, Albania, Mexico, India, the Gaza Strip, Croatia, and Bolivia are combined with bold, intelligent essays on Strength, Pity, Dignity, Courage, Faith, Time, Hope, and Compassion. Though the photographs for this book were taken in different countries and amid different struggles, a common theme emerges: even in times of great hardship and in the face of great evil, people with strength and compassion can live with courage.
---
About Eric:
Eric Greitens was born and raised in Missouri, where he was educated in the public schools. He was an Angier B. Duke Scholar at Duke University where he studied ethics, philosophy, and public policy. Selected as a Rhodes and Truman Scholar, he attended the University of Oxford from 1996 through 2000. There he earned a master's degree in development studies in 1998, and a Ph.D. in politics in 2000.
Eric's book of award-winning photographs and essays, Strength and Compassion, grew from his humanitarian work. His doctoral thesis, Children First, investigated the ways in which international humanitarian organizations can best serve war-affected children. He has worked as a humanitarian volunteer, documentary photographer, and researcher in Rwanda, Cambodia, Albania, Mexico, India, the Gaza Strip, Croatia, and Bolivia.
Eric is also a United States Navy SEAL officer, and he currently serves with a reserve unit at Special Operations Command. He has deployed four times during the Global War on Terrorism: to Iraq, Afghanistan, the Horn of Africa, and Southeast Asia. He has served as the Commander of a Joint Special Operations Task Unit, Commander of a Mark V Special Operations Craft Detachment, and as Commander of an Al Qaeda Targeting Cell. His personal military awards include the Joint Service Achievement Medal, the Navy Commendation Medal, the Combat Action Ribbon, the Purple Heart and the Bronze Star.
In 2005-2006, he was appointed by the President to serve as a White House Fellow. The White House Fellowship is a non-partisan, non-political appointment that is considered America's most prestigious fellowship for leadership and public service.
Eric is a sub-3 hour Marathon runner and the winner of the Shamrock Marathon at Camp Fallujah, Iraq. As a boxer, he won two Oxford Boxing Blues and the Gold Medal at the BUSA National Boxing Championships.
Eric used his combat pay from Iraq to start The Mission Continues. The Mission Continues empowers wounded and disabled veterans to continue their service to their country and communities as citizen leaders here at home. Eric currently serves as volunteer Chairman and CEO. He has contributed over 2,500 volunteer hours and in October 2008, the President of the United States awarded Eric the President's Volunteer Service Award in recognition of Eric's inspiring and national leadership on his work with wounded and disabled veterans.
Eric is a Senior Fellow at the Truman School of Public Affairs at the University of Missouri, where he teaches on public service, ethics, and leadership.
---
Thank you so much to Eric for joining us today! If you'd like to pick up a copy of his book
Strength & Compassion
click on the cover image below.