Fredrica Wagman, author of the new book The Lie, stopped by to share with us a piece she wrote about Rita Hayworth.


---
Finding Rita Hayworth
By Fredrica Wagman

My fascination with Rita Hayworth began when I was very young because my mother was so enthralled with Rita Hayworth herself that she named me Rita, and although she polished my name off with the name Fredrica in the middle, it was the name Rita that profoundly connected me to my mother -- to my childhood and to that exquisite creature who ruled the sliver screen for all my growing years.

People do things like that. Pick the name of presidents and movie stars whom they admire for their newborn babies, hoping, preposterously, that the name of the famous person they admire will evoke the same magic on some poor unsuspecting little child.
I use the word "poor" because the child in full innocence sallies forth into life burdened with a name and a namesake she knows nothing about. In this case, what glowed in my mother's esteem couldn't be denied -- Rita Hayworth was a goddess, worshiped by men and women alike. She was the quintessential pin-up girl of World War II. She was the epitome of glamour and elegance. One of her five husbands was a prince and the others were iconic movie stars themselves. She had everything -- she was gorgeous; she had astounding beauty. She had children and wealth and jewels and clothes and incredible fame so that all-in-all she was a living breathing testimonial of immensely enviable success. But that wasn't all she had. She also had a secret. Buried deep within her was the knowledge of a terrible tragedy, the effects of which she bore silently her whole life; she was the victim of severe abuse -- physical, emotional and sexual, vested on her by her father while her lackluster, impoverished mother turned a blind eye to the devastation that was her daughter's fate.
The research that went into writing
The Lie
, dealt extensively with understanding the lives and struggles of many famous movie stars, a fascinating subject itself -- what makes them, what drives them -- but I settled finally on Rita Hayworth, not only because our names are the same, and not only because my mother thought "she was the most exquisite thing that ever lived or breathed," but because her story was the most clear-cut and the most brutal.
She was born Margarita Consuelo, the granddaughter of a great and famous flamenco dancer, so great and so famous that he was part of the court of the King of Spain. His son, Rita Hayworth's father came to this country speaking no English and earning his meager living, paltry as it was, by giving dancing lessons with his young, exquisite daughter as his partner. Fred Astaire, speaking once of Rita Hayworth said she was the best partner he ever danced with, and that statement included all his partners -- even the remarkable Ginger Rodgers. In the days of prohibition, because this country was dry with no liquor being sold, Rita's father took his young, beautiful and extremely talented daughter to Mexico, frequenting cheap night clubs and filthy dance halls where the liquor was flowing so they could eek out a bit of money on which to live by dancing for "tips". Things were so bad at times that Rita was forced by her father to catch fish off of wooden piers, often kneeling for hours in order to catch them with her bare hands and if that day she caught nothing, her father would beat her within an inch of her life, all the while introducing her as his wife and using her sexually.
This is not an unusual story. Neither for movies stars nor for the vast throngs who watch them. It is a common secret tragedy for men as well as for women, and as fascinated as I am with what makes movie stars tick -- their stories and struggles, I am even more concerned with the subject of childhood sexual abuse -- how to bring it out of the darkness and into the light for the millions of people like Rita Hayworth who have been so deeply scarred.
---
About
The Lie
: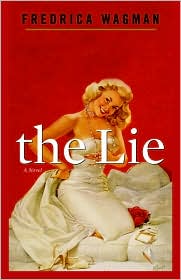 Coming of age in the 1950's America, Ramona Smollens takes her cues about female sexuality from Hollywood movie stars. None is more voluptuous than Rita Hayworth, the redhead who knows how to please a man and becomes a volcano of passion at her lover's touch, whose image inspired American flyers on their missions in World War ll and even graced the first atomic bomb tested at the Bikini Atoll. Ramona marries young to escape her mother's house shortly after the death of her father. She takes with her a dark secret, the sort of secret one simply did not talk about and that would stalk her as she matured into her role as wife and mother, remained a devoted daughter to her own aging mother and secretly harbored an obsession with the iconic Hayworth.
The fictional story Wagman tells of one woman's struggle with the conventions of her day is a bold literary achievement. Underpinning it all is the sad, unspoken truth of the real-life, flesh-and-blood Hayworth, who was sexually abused by her father for most of her growing up. "Men go to bed with Gilda," she used to say, "but wake up with me." During Hayworth's lifetime, the public had no understanding of the depth of meaning and pain behind Hayworth's seemingly self-effacing words. To Ramona, and millions of women like her, Haywoth's on-screen persona seemed the ideal, but was in fact "the lie."
With this novel, Wagman realizes Kafka's famous dictum that "a book must be the axe to break the frozen sea within us."
---
About Frederica Wagman:


My name is Fredrica Wagman, but it wasn't always. I started out as Riki Barris, "Riki" being short for Rita Fredrica, born in Philadelphia where I spent the first four years of my life in my grandparents home with my mother and father and my older brother. It was a great sprawling place where there were maids and my baby-nurse, big cars, a devoted chauffeur by the name of I.J. Duckett, and the warmth of aunts and uncles and my grandparents all around us all the time whom I adored.

When I was four we moved into our own small house which was very hard on my mother who was used to all the space and all the help that everyone there could provide. My mother became quite depressed when we moved away from my grandparents and a hard time ensued after that for my brother and me. My father was a dentist, an oral surgeon who specialized in extracting teeth which was a kind of speciality in those days, although barbers were purported to have been doing it for years without all the training and all the honors my father collected at the University of Pennsylvania's dental school.

I attended schools first in the suburbs of Philadelphia and then in the city which was where we moved when I was eleven years old. I was married at a very early age, shamefully early, to Howard Wagman. Had five children, lost one, attended the University of Pennsylvania and Bryn Mawr College after the children were born, and was writing fiction and poetry for as long as I can remember.

Fredrica Wagman is the author of six novels —

Playing House

,

His Secret Little Wife

,

Mrs. Hornstien

,

Peachy

, and

Magic Man, Magic Man

—and

The Lie

, just released in April 2009.


---
Thank you so much to Fredrica for joining us today! If you'd like to pick up a copy of her book
The Lie
click on the cover image below.