Today Carol Henson Keese, author of the The Angry Thunderstorm, is joining us for a great interview and giveaway!

You can see my review of the book here.

Beth: Hi! Welcome to Beth's Book Review Blog! It's great to have you here today! Thank you for taking the time to join us and answer some questions.

Congratulations on your children's book, The Angry Thunderstorm, being published! Can you tell us a little bit about it?

Carol: Thank you for the book review and for your interest in The Angry Thunderstorm.

Rachel Henson, the illustrator, and I are very excited about having published The Angry Thunderstorm. For me, working with Rachel was the most rewarding part of this adventure because Rachel is my niece. Most people do not know that she was only sixteen years old when she conceptualized and created the pictures for the story. She is a remarkably talented artist and writer; and I predict a wonderful future for her.

As a child, I was always frightened of thunderstorms. The wind. The lightning and thunder. These are powerful and scary events for children who can't quite comprehend the scientific details of these natural occurrences. As I grew older, I began to recognize the importance of storms for the environment and came to appreciate them. When I became a mother, I was not surprised that both of my children had the same fears and anxieties when it came to experiencing thunderstorms. Instead of focusing on what was happening during the storm, I tried to help them focus on why it was happening. "The Thunderstorm has to sound his thunder to give us a warning." "The Thunderstorm helps light a path for all the animals that need to find shelter." "The Thunderstorm's winds have to blow strong so that he can clean the air we breathe." By providing honest and understandable reasons for each event, they began looking at storms differently.

The Angry Thunderstorm was written based on the explanations that I gave to my children. They were encouraging ideas that helped them move beyond their fears. It is my hope that the book will help other young readers on their journey from uncertainty to understanding.

Beth: What is the main message you want readers to take away from the book?

Carol: The main message of The Angry Thunderstorm is that Thunderstorms are our friends and they help our world. There is a also a beautiful underlying message too. We should never base our opinions of a person or thing on first impressions. Instinctively, we tend to shy away from harsh or negative people only to learn later that there was some circumstance or event that contributed to their behavior the first time we met them. When we get to know them better, we understand their temperament and allow for their attributes, no matter how unpleasant they may seem on occasion.

I see this message come through more and more during the read aloud. Young readers will look at the cover and say, "Oooh, he's scary!" Or, "That's a scary book." By the time we have read to the end of the story, they love the storm and think of him as a friend.

Beth: What made you decide to write children's books?

Carol: I recently read a blog posting by Julia Lawrinson titled, Why I Write For Children, that really sums up why I chose to write for this audience. Lawrinson states that children have a relationship with books that is lost to most adult readers which makes writing for them so intense and wonderful. Children care passionately about what they read - or about what is being read to them. I think this is because they truly experience a story. Their minds are open and they can actually take a walk with the character of a story - or become friends with a thunderstorm. This makes children the ultimate audience to write for.

Another thing I have only recently learned since publishing this book- Writing for children is the most humbling of experiences. I may have written the story. I may have told the story. But in the end, it is the character of the story that really speaks to the child.

Beth: Do you have plans for another children's book?

Carol: I am preparing to begin the illustration process for the second book. The target for release is October, 2010. Although I cannot share any of the details, I am very excited about the story. Beyond that, I have several ideas that I hope will become books.

A couple of things readers can expect from my stories:

As a young reader, I always enjoyed books that were written in rhythm and rhyme. Mother Goose and Dr. Seuss were among my favorites. I decided early on that rhythm and rhyme would also be my writing format as well. Telling a story in this format requires a great understanding and use of language. While it can be challenging to write a story in this manner, the end result is often extremely fun and beautiful.

I also like to use a robust vocabulary. This is an area where I have received both praise and criticism; but I strongly feel that a good vocabulary begins at an early age. Overcoming challenging words is a satisfying accomplishment to a young reader. Even the younger children, who cannot yet read, can learn to pronounce difficult words and learn their meanings through the context.

Beth: Do you have any special writing routines? Do you always write in the same place at the same time of day?

Carol: My experience has been that a good idea can present itself at any time or place. Instead of having a special writing routine, I will simply jot down an idea as it comes to me. This means that I usually have multiple stories working at the same time. If I hit a block with one story, I am able to go to another story with a fresh outlook. It is almost like a "round robin" style of writing.

Beth: I'm always curious about what other people are reading. What are you reading now?

Carol: I just finished the book, I Am Potential, by Patrick Henry Hughes. A friend of mine recently attended a conference where this young man was a guest speaker and she was moved by his story, so she loaned me his book. The premise of the book is based on eight lessons on living, loving and reaching your dreams. Normally, I try to avoid self-help books because instead of finding them encouraging, they tend to have the opposite effect on me. However, this was a good read about a young man who had so much working against him from the very beginning of his life. Yet, he looked beyond his disadvantages and made the very best of what he was given to rise above. It truly made me thankful for what I have been given; and it made me want to try harder to get where I want to be.

Before that, I read Rose Bowl Dreams. If you are a Texas Longhorn fan, I highly recommend this book by Adam Jones. Having been born and raised in Austin, Texas - this was practically required reading.

Finally, the best book I have read this year is It's Not What You Sell, It's What You Stand For by Roy M. Spence with Haley Rushing. A truly fine look at what makes a company or brand legendary – discovering your purpose beyond making money.

Beth: And finally, do you have a favorite book of all time?

Carol: My favorite children's book of all time is, Love You Forever, by Robert Munsch. I could never finish reading this story to my children without getting a big lump in my throat.

My favorite book of all time is To Kill A Mockingbird, by Harper Lee. This book just welcomes you into a "tired old town" and a slower time. The story examines humanity at its best and its worst. As great as the movie is - the book was a hundred times better. I have read it many times and and never tire of it.


---
About Carol:
Carol Keesee is employed with a leading advertising agency in Austin, Texas. This role brings her great satisfaction and joy; however, the role that she cherishes most of all is being a mother.
"My children are my purpose. Some of the deepest and most complex questions about life have come from my children," says Keesee. "I think it is important try to answer these questions in a way that is truthful and encouraging, and on a level that can be understood.
The Angry Thunderstorm
is a thought-provoking alternative to the way things may seem. The story asks one to look beyond the bad and find the good."
Keesee is married with two children and resides in Austin, Texas.
---
Thank you so much to Carol for joining us today! If you'd like to pick up a copy of her book
The Angry Thunderstorm
, click the cover image below.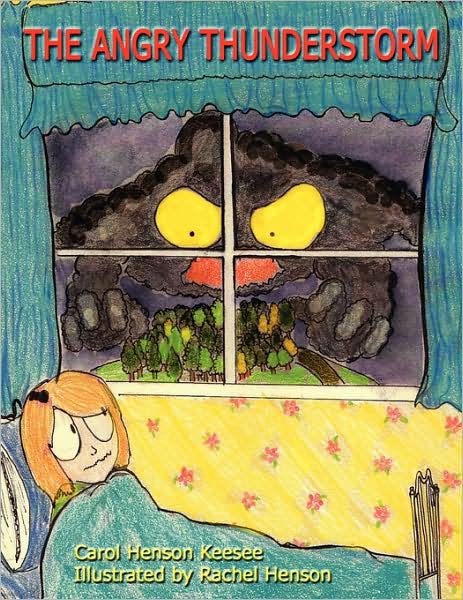 ---
Carol has generously sent me a copy of her book

The Angry Thunderstorm
,
to give away to one lucky reader!
To enter see below:
Contest runs from July 26, 2009 to 11:59 PM EST August 16, 2009. Winner will be announced August 17, 2009. Open to US residents only.
To enter - earn one entry for each of the following activities (up to 10 entries per person):
Leave a comment on this post about something you learned/liked/etc. from the interview. Please include your e-mail address so I can contact you.

Follow or subscribe to this blog, and leave me a comment on this post telling me you're a subscriber. If you're already a follower or subscriber, comment telling me that.

Blog about this contest and include a link to this post. Leave a comment with a link to your blog entry.
Tweet about this contest using the Tweet This button below. Leave a comment with a link to your tweet.
Leave a comment on any other post (anything except another giveaway, i.e. reviews, interviews, Bored Now, Mailbox Monday, Library Loot, etc.) and leave a comment here telling me which post you commented on. You can do this up to five times for five additional entries.

Follow me on Twitter (link in sidebar) and leave a comment telling me you're a follower. If you're already a follower, comment telling me that.

Post one comment for each entry.
Each comment must include your e-mail address.