Today Charrie Hazard, author of the book Falling Into the Sun, is joining us for an interview and a great giveaway!

Beth: Hi! Welcome to Beth's Book Review Blog! It's great to have you here today! Thank you for taking the time to join us and answer some questions.

Can you tell us a little bit about Falling into the Sun?

Charrie: The novel begins when protagonist Kate Nardek discovers her neighbor's suicide. She realizes the kind of despair that spurred Michael's self-destruction fuels her thirteen-year-old son's violent blowups. This prompts her to seek psychological help for her son Josh, a decision that propels her not only into the labyrinth of mood disorder diagnosis and treatment, but also on a spiritual journey that forces her to rethink her beliefs about mental illness, good and evil, blame and judgment, and even death.

Parallelling her journey is that of her dead neighbor, whose soul flies into the center of creation. There, he discovers something has noted every twist of his life. This being's perfect knowledge generates the healing salve of perfect, non-judgmental compassion. Michael is given a choice: He can face the truth behind violent episodes in his recent life or he can choose the seeming bliss of ignorance. He chooses the harder path: knowledge.

Beth: How much of the novel is based on your actual experiences?

Charrie: A good bit. When my son was thirteen, I, like my protagonist, discovered my neighbor's suicide. The suicide forced me to acknowledge that my son's increasingly volatile behavior was not simply the result of lax discipline or poor parenting, as my pediatrician had repeatedly claimed. Consulting a psychologist was the first step in a long, torturous and heart wrenching path to an accurate diagnosis and appropriate treatment of my son's mood disorder. In the course of eighteen months, my son was diagnosed first with oppositional defiance disorder, then depression, then anxiety disorder, then bipolar disorder. He was treated for bipolar disorder for a number of years with limited success. At the age of nineteen, he went off all medication for about a year, researched his symptoms, and decided he had severe anxiety disorder. He returned to his old psychiatrist, who concurred, and he is now being successfully treated for that disorder and is making good grades and good friends at the University of South Florida. The intervening years were very difficult for my family. However, for me, they were also a time of great spiritual growth. I often tell my son that he has been my greatest teacher.

Beth: What is the significance of the title?

Charrie: The title comes from the passage in the book in which Michael's soul flies into the center of creation. The passage states: He moves faster than light, disintegrating time, jumping dimensional barriers. Pure energy speeding to its source. A spark falling into the sun, ageless as
a photon.

The phrase not only suggests the soul's relation to God, but also serves as a metaphor for Kate's spiritual journey, in which she must learn, among other things, the Hindu concept of surrender, or, as her godmother calls it, "free-falling into God."

Beth: What is the main message you want readers to take away from the book?

Charrie: A central theme of the novel is that, contrary to the vision of God so many of us grew up with--an old man with flowing white hair, sitting behind a judicial bench, gavel in one hand, a list of our sins in the other--God is a non-judgmental, compassionate being, that infuses all things and views all creation as perfect. Kate comes to refer to God as "She" and envisions Her as a glimmering sprite, filled with laughter. This joyful, creative force can turn any situation, no matter how horrendous, to good. Hand in hand with that is the theme that fear and judgmental attitudes are two of the greatest blocks to a fully-realized life.

Beth: Do you have any special writing routines? Do you always write in the same place at the same time of day?

Charrie: Sometimes I wish I could run away to a cabin on the coast and just write, with no distractions, no other responsibilities. But then I think my life would be very one-dimensional and for that reason, I probably wouldn't have much of import to say. The truth is, with three children and a teaching job at the University of Tampa, I am pulled in many directions. That said, I try to write first thing in the morning. That's when I'm freshest and I have the most "alone" time. I try very hard when I write a first draft of anything to turn off my very critical, internal editor. The early buds of any creative endeavor are very fragile and need to be nurtured, not judged and knit-picked. There is a time for editing, but never in the early stages of a project.

Most important, I commit to writing every day for at least twenty minutes no matter what else is going on. That keeps me in the groove. Often, young writers will not sit down to write unless they have a large block of time set aside (when I was in this frame of mind, I never wrote
because I never had the time). I have found that if I commit to writing at least twenty minutes a day (which is not overwhelming and is always doable, no matter what my schedule) I ultimately average much more than that on a daily basis.

Beth: I'm always curious about what other people are reading. What are you reading now?

Charrie: I'm always reading. Not only do I belong to a book club, but my children are constantly asking me to read books they have read so we can discuss them. I also insist that my writing students read as well (and whatever I make them read, I, of course, must read). I just read Margaret Atwood's The Blind Assassin at the request of my seventeen-year-old daughter. As all of Atwood's books, it is incredibly well written (the word play is a joy). I am now starting Where the Heart Is, by Billie Letts, at the request of my thirteen-year-old daughter. Last semester I
had my students read Schindlers List, by Thomas Keneally. I read it some twenty years ago, but re-read it with my students. The best book I've read in the past year from my book club was definitely The Guernsey Literary and Potato Peel Pie Society, by Mary Ann Shaffer and Annie Barrows. Wonderfully funny and heart warming. The best book that I've read this past year that I chose on my own was A Thousand Splendid Suns, by Khaled Hosseini.

Beth: And finally, do you have a favorite book of all time?

Charrie: This is a very difficult question and I don't believe it really has an answer. There are so many books that I love, from Little Women, to To Kill a Mockingbird to Pride and Prejudice to War and Peace. But if, on the spot, I had to pick a book that had influence me from an early age
and the messages of which had stuck with me, I'd have to say The World of Pooh, by A. A. Milne. I remember my mother laughing, at times uncontrollably, when reading me the silly adventures of Pooh and Piglet and Owl and Rabbit, or the woes of Eeyore. I understood her laughter fully only when I, in turn, read the book to my children and discovered the beautiful wisdom underscoring Pooh's outlook and the unconditional love expressed by Christopher Robin's "silly ole bear." I have never forgotten as a child my mother reading me the passage in which Pooh and Piglet are walking through the forest on a very blustery day--so blustery that Piglet's ears are trailing straight out behind him. Piglet, always a very fearful little animal, says in a quacking voice to Pooh something to the effect of: "Perhaps a tree will fall on us." Pooh
ponders this idea for a moment, then replies, "Perhaps it won't." What more can I say!


---
About Charrie:
Charrie Hazard is an award-winning journalist, formerly working as an investigative reporter and editorial writer with the
St. Petersburg Times
. She left journalism to pursue teaching and fiction writing, and today is an adjunct professor of writing at the University of Tampa in Florida.
Charrie is the Clearwater, FL branch president of The National League of American Pen Women, Inc., and her work is published in literary journals such as Sunscripts: Writings from the Florida Suncoast Writers' Conference, Snowy Egret, Palm Prints and Wordsmith.
Charrie Hazard currently resides with her husband of 24 years and their three children in Safety Harbor, FL.
---
Thank you so much to Charrie for joining us today! If you'd like to pick up a copy of her book
Falling Into the Sun
, click the cover image below.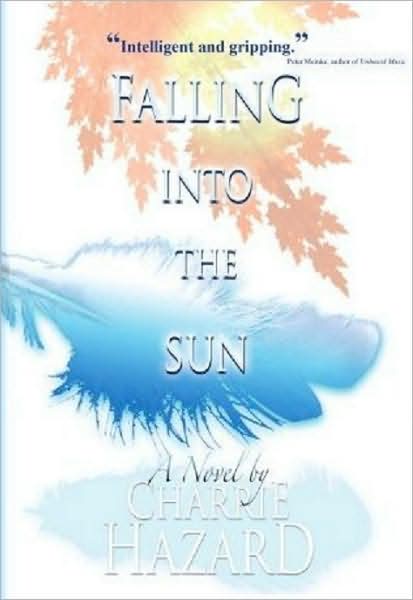 ---
Charrie has generously sent me two copies of her book

Falling Into the Sun
, to give away to two lucky readers!
To enter see below:
Contest runs from July 28, 2009 to 11:59 PM EST August 18, 2009. Winners will be announced August 19, 2009. Open to residents of US only. PO boxes are fine.
To enter - earn one entry for each of the following activities (up to 10 entries per person):
Leave a comment on this post about something you learned/liked/etc. from the interview. Please include your e-mail address so I can contact you.

Follow or subscribe to this blog, and leave me a comment on this post telling me you're a subscriber. If you're already a follower or subscriber, comment telling me that.

Blog about this contest and include a link to this post. Leave a comment with a link to your blog entry.
Tweet about this contest and include a link to this post. Leave a comment with a link to your tweet.
Leave a comment on any other post (anything except another giveaway, i.e. reviews, interviews, Bored Now, Mailbox Monday, Library Loot, etc.) and leave a comment here telling me which post you commented on. You can do this up to five times for five additional entries.

Follow me on Twitter (link in sidebar) and leave a comment telling me you're a follower. If you're already a follower, comment telling me that.

Post one comment for each entry.


Each comment must include your e-mail address.