Here goes this week's Library Loot!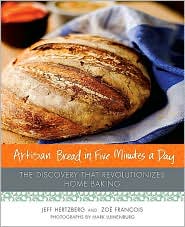 There's nothing like the smell of freshly baked bread to fill a kitchen with warmth, eager appetites, and endless praise for the baker who took on such a time-consuming task. Now, you can fill your kitchen with the irresistible aromas of a French bakery every day with just five minutes of active preparation time, and Artisan Bread in Five Minutes a Day will show you how.
Coauthors Jeff Hertzberg and Zoë François prove that bread baking can be easier than a trip to the bakery. Their method is quick and simple, bringing forth scrumptious perfection in each loaf. Delectable creations will emerge straight from your own oven as warm, indulgent masterpieces that you can finally make for yourself. In exchange for a mere five minutes of your time, your breads will rival those of the finest bakers in the world.
With nearly 100 recipes to put this ingenious technique to use,
Artisan Bread in Five Minutes a Day
will open the eyes of any potential baker who has sworn off homemade bread as simply too much work. Crusty baguettes, mouth-watering pizzas, hearty sandwich loaves, and even buttery pastries can easily become part of your own personal menu, and this innovative book will teach you everything you need to know.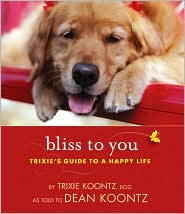 Bestselling author Dean Koontz says that his dog, Trixie, changed his life and made him a better, happier person. A 68-pound dog who lived close to the ground, Trixie certainly did cast a long shadow. She first became known outside of her own house (doghouse, that is) as a guest blogger on Dean's website, signing off every entry Life is Good, Bliss to You. Now, in this warm and funny book -- as told to Dean Koontz -- Trixie once again shares her inspiring outlook on life and reveals the eight steps that anyone can take to achieve not merely happiness, but bliss.
Packed with dog wisdom, both poignant and funny, this charming and heartfelt book gives the listener much food for thought -- which might not be as tasty as a bowl of kibble but is nonetheless nourishing.
Bliss to You!