Here goes this week's Library Loot!

Nearing age thirty, Amanda thought she'd be someone else by now. Instead, she's just herself: an ex-nanny yogini-wannabe who cranks out "For Idiots" travel guides just to scrape by. Yes, she has her sexy photographer boyfriend, but he's usually gone—shooting a dogsled race in Alaska or a vision quest in Peru—or just hooking up with other girls. However, she's sure her new assignment, "Enlightenment for Idiots," will change everything; now she'll become the serene, centered woman she was meant to be. After some breakup sex, she's off to India to find a new, more spiritual life.
What she finds, though, is an ashram run by investment bankers, a yoga master who trashes her knee, and a guru with a weakness for fashion models. She escapes a tantra party at the Taj Hotel, has a nasty argument outside the cave where the Buddha used to meditate, then agonizes through the ten-day silent retreat that's supposed to make her feel better.
No, India is not what she had pictured. But she finds a friend in Devi Das, a redheaded sadhu who refers to himself as "we." And when a holy lunatic on the street offers her an enigmatic blessing, Amanda realizes a new life may be in store for her—just not the one she was expecting.
Jack Canfield's success credentials are incontestable: The co-creator of the
Chicken Soup for the Soul
franchise has sold more than 80 million books. (In fact, he once had seven books on New York Times bestseller lists simultaneously.) His Success Principles set out 64 keystones ("Become an inverse paranoid," "Reject rejection") for achieving the kind of life that you've always wanted. Canfield bolsters these precepts with uplifting quotations from famous role models. A manual for the upward bound.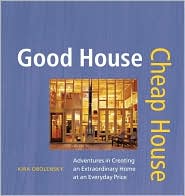 The 27 homes in "Good House Cheap House" prove that good design doesn't have to cost a fortune. What goes into making a good, cheap house? As writer Kira Obolensky discovers, there are three main ingredients: adventuresome homeowners who are actively involved; cutting-edge architects and designers who can solve tough design challenges; and an array of innovative uses of materials. Industrial bridge washers make for gorgeous mantelpiece rosettes, old concrete subflooring is given new life with rich-hued stain, and glass sliding doors make for windows that are oversized and affordable.
From a Texas farmhouse to a loft in St. Paul, to a prefab cabin on the Wisconsin prairie, these houses, in which anyone would feel at home, display a wonderful mix of design smarts and budget savvy.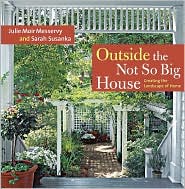 "Outside the Not So Big House" extends the principles from "The Not So Big House" to offer a unified source of design advice about making the indoors and outdoors work together. Through the unique pairing of bestselling author and residential architect Sarah Susanka and landscape designer and award-winning writer Julie Moir Messervy, two highly qualified experts teach us how to think in a new way about designing our outdoor spaces--so they are in keeping with our interior ones.
"Outside the Not So Big House" gives language to design concepts that unify home and landscape. Two major concepts--make building decisions in the context of the land and make landscape decisions that draw the inside toward the outside--inspire homeowners to attune their homes and property to fit the way we live today.