Simplicity, comfort, and intimacy define the cottage—and they are the hottest ideas in domestic design today, as seen in a host of new books and magazines celebrating the not-so-big house. The personal, easy-living style of the cottage has formed a compelling counter-trend to the overblown, oversize McMansions of the 1990s. Today, quality of place is more important than quantity of space, and no home style demonstrates that value more appealingly than the cottage.

Presenting charming retreats perched on rocky coasts, hidden in leafy woods, and nestled on rolling farmland, The Cottage Book explores the roots of this iconic and beloved style. Century-old examples of simple, beautiful getaways from Maine to California—along with delightful variations on the theme—are captured in richly detailed, atmospheric photographs.

In this gorgeous paean to the cottage tradition—now available in paperback—artist, designer, and cottage expert Carol Bass showcases a group of classic early cottages (all still in happy and active use), leads us through a collection of updated and new cottages, and delineates those stylistic elements that define cottage life. Primary residence or weekend haven, The Cottage Book inspires an irresistible fantasy of a home of our own.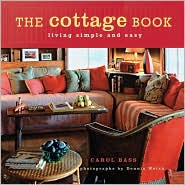 The majority of the cottages featured were real, uninsulated summer cottages not intended for year round use. The styles are quite homey, yet rather cluttered. The "stuff" is all exposed everywhere. The glasses and plates and such being exposed makes me wonder if they have pets - they must not, or hair would be on and in their dinnerware.
In any case, the text was friendly and warm, like a blanket and mug of hot cocoa on a cold, snowy night. The pictures were beautifully photographed and truly captured the feel of each home.
This one gets seven stars. The book clearly and simply illustrates the cottage feel in many different forms. You can just tell that all the houses would be lovely summer, but perhaps not full time, cottages to stay in. The text is friendly, inviting, and easy to read, with not a hint of dryness. The photographs by Dennis Welsh are gorgeous and perfectly capture the houses as homes where real people live.
Rating: ★★★★★★
★
☆☆☆