From the acclaimed author of The Whiskey Rebels and A Conspiracy of Paper comes a superb new historical thriller set in the splendor and squalor of eighteenth-century London. In Benjamin Weaver, David Liss has created one of fiction's most enthralling characters.

The year is 1722. Ruffian for hire, ex-boxer, and master of disguise, Weaver finds himself caught in a deadly game of cat and mouse, pitted against Jerome Cobb, a wealthy and mysterious schemer who needs Weaver's strength and guile for his own treacherous plans.

Weaver is blackmailed into stealing documents from England's most heavily guarded estate, the headquarters of the ruthless British East India Company, but the theft of corporate secrets is only the first move in a daring conspiracy within the eighteenth century's most powerful corporation. To save his friends and family from Cobb's reach, Weaver must infiltrate the Company, navigate its warring factions, and uncover a secret plot of corporate rivals, foreign spies, and government operatives. With millions of pounds and the security of the nation at stake, Weaver will find himself in a labyrinth of hidden agendas, daring enemies, and unexpected allies.

With the explosive action and scrupulous period research that are David Liss's trademarks, The Devil's Company, depicting the birth of the modern corporation, is the most impressive achievement yet from an author who continues to set ever higher standards for historical suspense.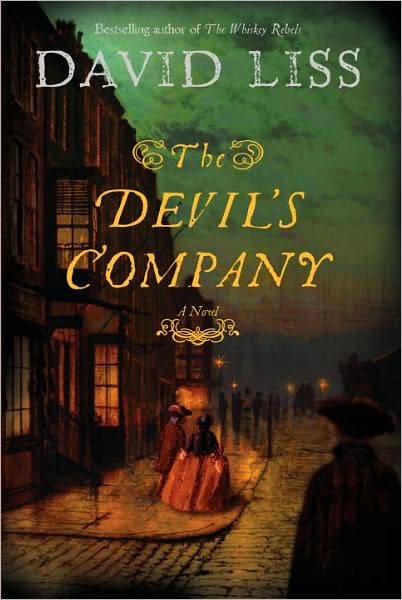 Received from the publisher for review.


This was the book that would not die. Seriously, it went on for what felt like
forever
!! It was 369 pages of small type on very large pages. I thought it would never end!
That said, the story itself was quite interesting, although I was a bit uncomfortable with jumping in on the third book of a series. Even though it is part of a series, it was a perfectly nice stand alone book. The characters were interesting and engaging even though I did not know what had happened to them in past books.
This one gets six stars. It was an interesting story, brought down from seven stars by two things. First was the sheer length of the book. The book was just
too darn
long
! Second, was the fact that on almost every single page the main character mentioned that he was Jewish, or made some reference to it. Seriously, I think after the first fifty times
we got it
! It was very, very distracting. I think the book may be more enjoyable for readers who have experienced the first two books.
Rating: ★★★★★★☆☆☆☆