The perfect, compact listen for today's fast-paced world, How Successful People Think (derived from Maxwell's previous book, Thinking for a Change) will teach listeners the 11 secrets successful people know. Arranged in an easy-to-follow format, America's leadership expert, John C. Maxwell, will teach listeners how to expand their thinking and achieve their dreams.

The 11 keys to successful thinking include:

Big-Picture Thinking - seeing the world beyond your own needs and how that leads to great ideas
Focused Thinking - removing mental clutter and distractions to realize your full potential
Creative Thinking - thinking in unique ways and making breakthroughs
Shared Thinking - working with others to compound results
Reflective Thinking - looking at the past to gain a better understanding of the future.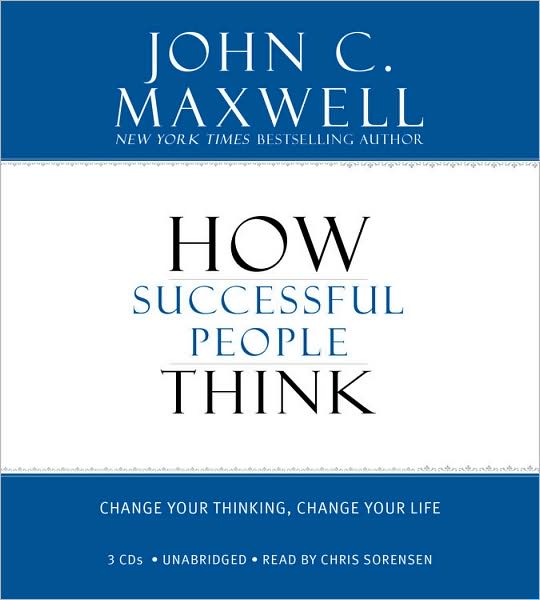 Received from the publisher for review.
This was the unabridged audiobook on CD edition (3 CDs/3.5 hours).
Well, this one was a great disappointment! The book was infinitely boring. I'm not sure if it was the reader, Chris Sorensen, who made it that way, or it was just the material - I'm leaning towards the material. The author is a pastor, which may explain part of the preachiness of the text, but does not make it acceptable.
The author was also a conceited prick! He
constantly
talked about how he ran so many companies, blah, blah. I wanted to smack him! He also mentioned how smart he was to "take advantage" of 9/11 to get half-priced tickets to
The Producers
and a great deal on a hotel room! How insensitive can you get?!
He obviously has no clue as to how normal people live because he mentioned Merck as an example of unselfishness for giving away 250 million tablets of one of their drugs. No, really. Um, did he check out how much those pills cost the company? It's probably a drop in the bucket of their multi
billion
dollar annual profit. And he considers them so saintly! Ha!
This one gets five stars. If it hadn't been only three discs I would have given up after disc one. This is obviously intended for an upper middle class male audience, just like the author himself. I cannot recommend this to anyone. At all. Ever. Just skip right over it.
Rating: ★★★★★
☆
☆
☆
☆
☆