THE BEACH...

A breathtakingly beautiful supermodel disappears from a swimsuit photo shoot at the most glamorous hotel in Hawaii. Only hours after she goes missing, Kim McDaniels's parents receive a terrifying phone call. Fearing the worst, they board the first flight to Maui and begin the hunt for their daughter.

...WILL NEVER BE...

Ex-cop Ben Hawkins, now a reporter for the
L.A. Times

,
gets the McDaniels assignment. The ineptitude of the local police force defies belief--Ben has to start his own investigation for Kim McDaniels to have a prayer. And for Ben to have the story of his life.
...THE SAME FOR YOU AGAIN.

All the while, the killer sets the stage for his next production. His audience expects the best--and they won't be disappointed.

Swimsuit

is a heart-pounding story of fear and desire, transporting you to a place where beauty and murder collide and unspeakable horrors are hidden within paradise.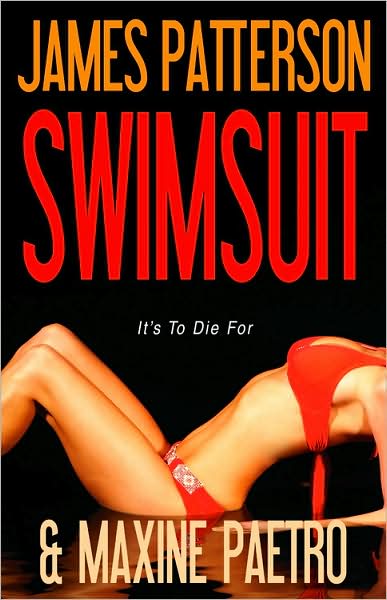 This was the unabridged audiobook on CD edition (6 CDs/7 hours).
This was my first Patterson experience and I was pleasantly surprised. The book was fast paced and engaging.
Henri was certainly industrious throughout the book. After this guy, Dexter isn't half bad. Henri is more of a Hannibal Lecter than anything.
The thing that bothered me the most was the main character, the reporter Ben Hawkins. I gather that we were supposed to sympathize with him. I don't know how it's possible to sympathize with a sick blood-sucking fiend who milks other people's tragedies for cash, but whatever. He's really not all that different from Henri in that he makes money off of other people's pain. I was more disgusted by him than anything. Really, a book deal is more important than other people's lives? That's just sick.
In any case, this one gets seven stars. It was well written and enjoyable. The reader, Christian Rummel did an excellent job with the male voices, perhaps not so much with the females. It is fairly graphic at points and not for the faint of heart. It makes for a nice, quick read and is a great introduction to Patterson's work.
Rating: ★★★★★★★☆☆☆