Laura Wiess, the acclaimed author who once brought us "a girl to walk alongside Harper Lee's Scout and J. D. Salinger's Phoebe" (Luanne Rice), brings us another memorable young woman, this one at the center of an extraordinary novel of how love ends, how it begins, and what it's worth to protect it...

All Hanna's wanted since sophomore year is Seth. She's gone out with other guys, even gained a rep for being a flirt, all the while hoping cool, guitar-playing Seth will choose her. Then she gets him — but their relationship is hurtful, stormy and critical, not at all what Hanna thinks a perfect love should be. Bewildered by Seth's treatment of her and in need of understanding, Hanna decides to fulfill her school's community service requirement by spending time with Helen, her terminally ill neighbor, who she's turned to for comfort and wisdom throughout her life. But illness has changed Helen into someone Hanna hardly knows, and her home is not the refuge it once was. Feeling more alone than ever, Hanna gets drawn into an audiobook the older woman is listening to, a fierce, unsettling love story of passion, sacrifice, and devotion. Hanna's fascinated by the idea that such all-encompassing love can truly exist, and without her even realizing it, the story begins to change her.

Until the day when the story becomes all too real...and Hanna's world is spun off its axis by its shattering, irrevocable conclusion.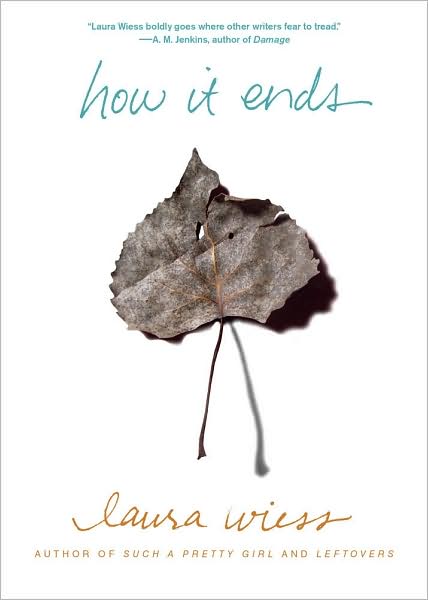 ---
About Laura:
Laura Wiess is the author of the critically acclaimed novels
Such a Pretty Girl
, chosen as one of the ALA's 2008 Best Books for Young Adults and 2008 YALSA Quick Picks for Reluctant Readers, and
Leftovers
. Originally from Milltown, New Jersey, she traded bumper-to-bumper traffic, excellent pizza, and summer days down the shore for scenic roads, bears, no pizza delivery, and the irresistible allure of an old stone house surrounded by forests in Pennsylvania's Endless Mountains Region. Email Laura Wiess at laura@laurawiess.com or visit http://www.laurawiess.com for more information.
---
Visit the other stops on the
How It Ends
tour:
My Book Views: my-book-views.blogspot.com
Book Soulmates:
http://booksoulmates.blogspot.com/
A Journey of Books:
http://ajourneyofbooks.blogspot.com/
Just Jennifer Reading:
http://justjenniferreading.blogspot.com/
Debbie's World of Books:
http://debbiesworldofbooks.com/
All About {n}:
http://www.bookwormygirl.blogspot.com/
Chick with Books:
www.chickwithbooks.blogspot.com
Bookin' with Bingo:
http://bookinwithbingo.blogspot.com/
Starting Fresh: http://startingfresh-gaby317.blogspot.com/
Booksie's Blog:
http://booksiesblog.blogspot.com/
Readaholic:
http://bridget3420.blogspot.com/
Blog Business World:
http://www.blogbusinessworld.blogspot.com/
Books and Needlepoint:
http://booksandneedlepoint.blogspot.com/
Bella's Novella:
http://www.bellasnovella.com/
Frugal Plus:
http://frugalplus.com/
Eclectic Book Lover:
http://www.eclecticbooklover.com
My Own Little Corner of the World:
http://molcotw.blogspot.com/
Chick Loves Lit:
http://www.chickloveslit.blogspot.com/
Poisoned Rationality:
http://lastexilewords.blogspot.com/
So Many Books, So Little Time: http://purplg8r-somanybooks.blogspot.com/
Beth's Book Review Blog:
http://bethsbookreviewblog.blogspot.com/
Park Avenue Princess:
http://aparkavenueprincess.blogspot.com/
Half Deserted Streets:
http://www.halfdesertedstreets.com/
Power in the Blog:
http://jesharris.wordpress.com/
Metroreader:
http://metroreader.blogspot.com/
Crazy for Books: http://crazy-for-books.blogspot.com/
Angieville:
http://angieville.blogspot.com/