Carolyn Rubenstein, author of the new book Perseverance: True Voices of Cancer Survivors, stopped by to share with us a piece she wrote.
---
Five Rules for a Fully-Realized Life
Excerpted from Perseverance: True Voices of Cancer Survivors
by Carolyn Rubenstein
Too often, we're so caught up in the day-to-day intricacies of attending school, making a living, raising children or worrying about our future that all we can see are our problems. We're so focused on the minutia that we forget to look at the big picture.
We shouldn't wait for a crisis to live life to the fullest. These are lessons we can all use to make our lives better today, tomorrow and every day.
1. Accentuate the positive
Studies show that having an optimistic or pessimistic attitude can affect the quality of your life, and even how long you live. Optimists' positive expectations make them more likely to overcome pain and adversity. On the other hand, depression is just as significant a risk factor for coronary heart disease as high blood pressure, high cholesterol and smoking. While you may not be able to control the bad events in your life, you can control your mind. So don't sweat the small stuff, don't dwell on the negative and always look for the silver lining in every cloud.
2. Surround yourself with a support system
While being loved by your family is wonderful, it can be equally important to have a nurturing environment where you're also supported by true friends and peers. Positive people. People who celebrate who you are, who champion your cause, who make you laugh and who make you feel good about yourself. The best way to get a good support system is to be a good supporter yourself, to appreciate what others provide for you and nurture those relationships.
3. Laugh—it really is the best medicine
The physical act of laughter stretches and loosens muscles throughout your face and body, clears your breathing passages and sends more oxygen to your tissues. Plus, it helps boost your heart rate and immune system, increases blood flow, decreases blood sugar levels and releases endorphins that decrease pain levels. Plainly, laughing makes you feel better. Ten minutes of giggling, chuckling or guffawing can make you feel better for hours, no matter what you're going through.
4. Never give up
Everyone has days when they feel as if life is too tough, that it would be simpler to just give up, give in and stop the pain—whether physical or emotional. But people who do great things persevere. They don't give in, they don't give up, they don't take the easy way out and they don't let their dreams die. Instead, they remain true to their dreams and goals. Everyone faces obstacles all the time. We can either let them defeat us, or we can use the obstacles to spur us to greater resolve, to reach down deep inside ourselves and find a core of hidden strength to endure or to push our way through it.
5. Pay it forward
We're all good at giving back to our family and friends, but the idea of foundations such as the Pay it Forward Foundation (
www.payitforwardfoundation.org
) and the Random Acts of Kindness Foundation (
www.actsofkindness.org
) is to give freely of yourself to strangers, or to people you don't know well, without expecting anything back. Performing these random acts of kindness will reap benefits for you as well. Allan Luks, the executive director of Big Brothers/Big Sisters of New York City studied the effects of helping others and coined the phrase "helper's high." The study shows that helping others releases endorphins and reduces stress—and invaluable benefit in these days and times. When showing kindness to others, it's difficult to feel depressed, sad or lonely and helps you find a sense of direction, enables you to heal from life-changing events and brings a sense of purpose to your life.
---
About the book: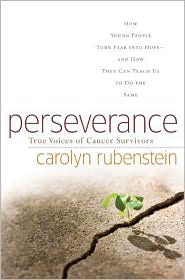 Can you imagine being in high school or college and suddenly learning you have cancer? You thought you had a lifetime ahead of you and the whole world at your feet, but suddenly you're told... maybe not. How would you cope?
That's the question the twenty young people in this book had to answer when they were diagnosed with childhood cancer. Perseverance tells of their trials and tribulations, of their triumphs, and of the unique challenges that day-to-day college life brings them. Perseverance also provides an intimate look at the lives and journeys of these young people and how their courage and strength have affected the lives of others.
These honest, first-person accounts lend amazing depth to the inspiring stories of these young men and women. Inside, you'll meet Zac York, who tells of climbing Mount Whitney—on crutches—after battling brain cancer. You'll meet Alex Oden, who—just days after brain surgery—gave his 8th grade peers a graduation speech called "A Day Well Spent," in which he challenged them to make a difference in just one day. You'll meet Kristen Jones, who, while battling leukemia, was able to pass the MCAT and pursue her dream of becoming a pediatric oncologist.
Twenty unique and fascinating stories, with one common theme: perseverance. The stories of these heroes demonstrate how anyone can learn to live with energy and passion, regardless of the obstacles to be faced, and will remind us all that now is everything.
---
About Carolyn:



Carolyn Rubenstein has spent most of her life working with children with cancer, in one form or another. She first met "kids with cancer" when she was six years old, and visited Camp Sunshine in Maine. Even at that young age, meeting these children affected her deeply—they were her peers, but considered "different". But really, Carolyn realized, they weren't different at all. She made dear friends at that camp, and it started her on a path.

That path has taken many turns. At 14, although still just a kid herself, Carolyn started "Carolyn's Compassionate Children" (CCC) a non-profit organization that began as a pen-pal program for kids with cancer. As the years passed, Carolyn "grew up" with many of her friends with cancer, and saw the financial difficulties they were facing when it came to paying for college. Often, these young people had so much medical debt that paying for school seemed out of the question. To address this need, CCC changed focus from just a pen-pal organization to one that provides scholarships and support to childhood cancer survivors. In addition to providing its own scholarships, today CCC features on its website the "CCCpedia," a database accessing information about more than 3,000 college scholarships for young adult cancer survivors.

A native of Boca Raton, Florida, in 2007 Carolyn graduated Phi Beta Kappa and summa cum laude from Duke University with a BA in psychology. She began her PhD program in clinical psychology at Harvard University in the fall of 2008. She is a regular blogger for

The Huffington Post

and

Psychology Today

. Now age 24, in her free time she practices yoga, writes letters, and spends as much time as she can with her family, her friends, and her dog Lila Rose.


---
If you'd like to pick up a copy of Carolyn's book
Perseverance: True Voices of Cancer Survivors
click on the cover image below.