Today Linda Weaver Clarke, author of David and the Bear Lake Monster and instructor of the Family Legacy Writing Workshops stopped by for day one of a two day visit to tell us a bit about her latest book and the inspiration for it.


---
Inspiration behind the Book: Author's Notes
I have dedicated this book to my great grandmother, Sarah Eckersley Robinson, who was my inspiration. She became deaf at the age of one and was a very brave and courageous woman. She never let her deafness stop her from developing her talents. I took a lot of her experiences from her biography and gave them to my heroine to bring some reality into my story. To me, the experiences of my ancestors have always intrigued me.
Sarah was known as one of the most graceful dancers in town. She never sat on the sidelines at dances because of her natural ability. She was known for gliding across the floor with ease, with just a touch of her partner's hand. Sarah had such agility and gracefulness, not only on the dance floor, but also while swimming and diving. People would actually throw coins in the water so they could watch her dive after them. They would applaud, letting her know how much they enjoyed watching her, and then throw another coin in the water.
An intruder actually hid in her bedroom under her bed, thinking he could take advantage of her since she was deaf. He must have thought she was an easy victim but was sadly mistaken. She swatted him out from under her bed with a broom, and all the way out of the house, and down the street for a couple blocks, whacking him as she ran. She was a spunky woman! Because of my admiration for my great grandmother, I named my character "Sarah."
In my research about the "hearing impaired," and talking to a dear friend who became deaf in her youth, I became educated about the struggles they have to bear. It was a surprise to find out that some struggle with self-esteem and the fear of darkness. I didn't realize that concentrating on reading lips for long periods of time could be such a strain, resulting in a splitting headache. After all my research, I found that I had even more respect for my great grandmother and her disability. What a courageous woman!
The different accounts of the Bear Lake Monster, the names of the people who saw it and their contribution to this legend are found in the bibliography at the end of my book. The accounts were true, according to Bear Lake History.
"The waves splashed gently upon the shore and the full moon shone brightly upon Bear Lake, making the water shimmer. A deep foreboding was in the air and the fawn, sipping from the lake, could sense it. His ears perked up and he stood still while his eyes searched the area. Only the sounds of nature could be heard, crickets sang and an owl hooted, but the deer sensed that he was in danger and quickly darted away. With great speed, he sprinted gracefully, as if in mid air, toward safety.
"A few feet from shore, the water abruptly parted and exposed a gigantic brown lump about 90-feet long. Water was trickling down its sides as it floated in the stillness of the night. At first glance it looked like an enormous log that had floated to the surface. After a couple seconds, it slowly moved toward shore. A howl of a wolf was heard in the distance but it was instantly cut off when a thunderous noise, like the roaring of an angry bull, pierced the night and was heard from the shores of Bear Lake and beyond. Immediately, the sounds of nature became silent and an eerie sense of foreboding remained in the atmosphere."
The mystery of the Bear Lake Monster has been an exciting part of Idaho history ever since the early pioneers arrived in 1863. Prominent leaders of the area encouraged the Indian legend because no one had a desire to move to the cold Bear Lake country. The valley was located at the tops of the Rocky Mountains in southern Idaho and the winters were harsh.
The legend of the Bear Lake Monster made life a little more exciting for the pioneers. Some people claimed to have seen it and gave descriptions of it. Throughout the years, no one has ever disproved the Bear Lake Monster. A bunch of scientists tried to discredit the monster and said it was a huge codfish that was shipped in from the East. Does the Bear Lake Monster exist? Is it fact or fiction, legend or myth?
The legend of the Bear Lake Monster began with the Natives who inhabited this valley. When the settlers arrived in 1863, the Indians told them all about the Great Bear Lake Monster. It had captured and carried off two of their braves while swimming. The legend came alive when people began reporting its existence.
Thomas Sleight and John Collings of Paris, Idaho, and Allen and M.C. Davis of St. Charles were taking six girls home from a party in Fish Haven when they stopped off at the lake. Some unusually large waves got their attention. They noticed four brown lumps and six smaller ones that were heading southward. They swam with incredible speed, about a mile a minute, until they were out of sight.
One summer day in 1868, S. M. Johnson was riding his horse alongside the shoreline when he saw an object floating in the water. At first glance, it looked like a man's body. He was shocked and thought that someone had drowned so he trotted his horse closer and watched the object but it didn't move. When the water didn't wash the body ashore, he figured it must have been a tree that was anchored to the bottom of the lake with its roots still in tact. As he watched this so-called tree, he said it opened a gigantic mouth that was large enough to swallow a man and it blew water from its mouth and nose. Johnson said that it had a skinny head, huge pointed ears, and three small legs that rose up from the water as it approached the shore.
Some time later, a group of twenty people spotted the monster and among these were prominent men of the community. Two outstanding leaders who reported the sighting were Wilford Woodruff and George Q. Cannon. No one doubted what they saw. These men had integrity and were trustworthy.
The interesting thing is that all the reports have pretty much the same description. The monster's eyes were flaming red and its ears stuck out from the sides of its skinny head. Its body was long, resembling a gigantic alligator, and it could swim faster than a galloping horse. It had small legs and a huge mouth, big enough to eat a man.
Is the Bear Lake Monster fact or fiction, legend or myth? Whatever conclusion is drawn, the legend still lives on and brings a great deal of mystery and excitement to the community. Remember, when visiting Idaho, never doubt the Bear Lake Monster or you'll be frowned upon. No one makes fun of the great legend of Bear Lake Valley!
---
About
David and the Bear Lake Monster
:
Deep-rooted legends, long family traditions, and a few mysterious events! Once again the Roberts family is reunited with David trying to solve personal issues and overcome his troubles! David quickly becomes one with the town and its folk and finds himself entranced with one very special lady and ends up defending her honor several times. She isn't like the average woman. Sarah is different. This beautiful and dainty woman has a disability that no one seems to notice. He finds out that Sarah has gone through more trials than the average person. She teaches him the importance of not dwelling on the past and how to love life. After a few teases, tricks, and mischievous deeds, David begins to overcome his troubles, but will it be too late? Will he lose the one woman he adores? And how about the Bear Lake Monster? Does it really exist?
---
About Linda: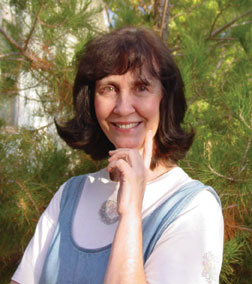 I was raised on a farm surrounded by the rolling hills of southern Idaho and have made my home in southern Utah among the beautiful red mountains and desert heat. I have been happily married for 36 years and am the mother of six daughters and have four wonderful grandchildren .
After my family began to leave the nest, I decided it was time to finish what I had started long ago. I decided to go back to college and get a degree. It had been 30 years since I had been to college and it was one of the most frightening things I had ever done. I had to learn how to study and take tests all over again. The first day of college, I was a nervous wreck and wondered if I could do this, but with the support of my husband and children I was able to graduate. I received my Bachelor of Arts Degree in Theatre and Music at Southern Utah University and received the Outstanding Non-Traditional Student Award for the College of Performing Arts in 2002. During the meantime, I cut a CD named "Romantic Love Songs of Sigmund Romberg and Victor Herbert."
I have enjoyed writing short stories and novels for several years but it took a lot of courage to begin submitting them. After "Melinda and the Wild West" was published, I entered it in the Reader Views Literary Contest and my book was chosen as a Semi-Finalist in the "Reviewers Choice Awards 2007." It was one of the top ten out of hundreds of other entries.
I also tour all over the United States, teaching people the importance of Family Legacy, encouraging others to turn their family history and autobiography into a variety of interesting stories. I have received several e-mails from those who have attended. Below is one that I received.
"I went to a 2-hr-seminar put on by Broadmoor Library. It was so interesting and I wish I had a video of the lady speaking; telling stories of her parents, grandparents, family, etc. What a great writer of fiction, which has family incorporated in her books. She will continue to write as the Lord gives her wisdom and knowledge on how to captivate the interest of the reader. . . I read long ago that you should write for the reader and she has done just that, as she knows how to capture the attention of the reader. What a brilliant lady who knows how to speak, write, motivate and bless people in all walks of life. I could listen to her all day. It is just so uplifting." -- Shirley from Shreveport, Louisiana
To contact me, you may e-mail -- linda@lindaweaverclarke.com
---
Thank you so much to Linda for joining us today! If you'd like to pick up a copy of her latest book,
David and the Bear Lake Monster
, click on the cover image below: