Today Sharon Wallace, author of the fascinating House Full of Whispers trilogy, is joining us for a great interview!

Beth: Hi! Welcome to Beth's Book Review Blog! It's great to have you here today! Thank you for taking the time to join us and answer some questions.

Congratulations on your fascinating trilogy being published! Can you tell us a little bit about the first book, A House Full of Whispers?

Sharon: I self published the first book in June 2008, but I was never satisfied with the end results. Luckily for me the publisher of the 2nd book in the Whispers Trilogy Surviving a House Full of Whispers is going to re-publish it in 4-5 months time. The title of this book is A House Full Of Whispers.

Beth: Can you tell us a bit about the second and third books in the trilogy?

Sharon: The second book Surviving a House Full of Whispers details my life after leaving my house of whispers and my struggle to become a mother, wife, and human being. I faced the courtroom of social condemnation when I asked for my abusers to be charged. I hope to also help others understand the behavior of someone who has come from an abusive background.

Beth: This is truly an amazing story. How did you get the courage to publish your experiences?

Sharon: I became more and more frustrated by the amount of times I was told to forget it - "It's in past move on." or "It happened too long ago for people to care." I realized that society heard me speak of my childhood as an adult, but when I spoke - I spoke as an ambassador FOR SHARON, THE CHILD.

As I child I had no voice to protest, I had not the strength to fight back or to stop the abuse, nor the intelligence to explain why I rebelled against my peers. I was the child who was abused - now I am the adult who will accuse!

Beth: Your strength is extraordinary! What would you tell someone who may be in a similar situation to what you experienced?

Sharon: Don't make your decisions on any one else's story - or survival, we are all unique and have the right to do what we feel comfortable with to ensure our own emotional survival.

Beth: You're also an accomplished photographer. Do you have any favorite subjects or places you photograph?

Sharon: I love to photograph landscapes and the beach is a favorite. I am always amazed at the sands and how the tides leave a clean unspoiled path, untrod by any living thing---well for a few minutes any way…A new canvas!

Beth: I'm always curious about what other people are reading. What are you reading now?

Sharon: I am reading the book The Color Purple by Alice Walker. I watched the film and it stayed with me for a long time as I related to so much. The courage shown by Sophia (Oprah Winfrey), her acting was superb, and Whoopie Goldberg was second to none. The film was executed with dignity and decorum. I have found the book as equally compelling.

Beth: And finally, do you have a favorite book of all time?

Sharon: The Adventures of Priscilla, Queen of the Desert by Philip Brophy my absolute favorite and the film was excellent.


---
About Sharon:
Sharon Wallace resides in the United Kingdom with her husband, Michael of 30 years. She has five sons and eight grandchildren and has been blessed with the wisdom and courage to stop the dysfunctional lineage. Her grandchildren are happy, content and have a childhood all children deserve.
A House Full of Whispers
is a true account from her own perception of what happened whilst growing up. She learned through her children how to love and be loved, five very special men who will always be the most important people in her life, along with Michael, her husband and soul mate.
Sharon has been writing for 35 years and has numerous poems in the media and on line; some of her poetry is available for viewing on this website. Sharon is planning on compiling a book of poetry in the future.
---
About
A House Full of Whispers: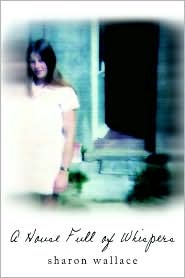 "A House Full Of Whispers" is a true story about a young girl who grew up in a house ruled by abuse, her struggle to survive and the consequences of asking for help. I started my life like any other child inquisitive, eager to help the adults within my life, and longed for a daddy to treat me as his princess. Age four.... I was excited about my first day at school and skipped and danced in front of the mirror, by black shinny shoes clip clopped on the stone floor. Age six.... I was old enough to join the brownies and gained many points towards my badges, I longed for my own Mummy and Daddy to sit with the others parents and be proud of my achievements. Age eight.... I was able to count money and my spellings easier and more quickly to attain, I was more aware of my surroundings. Deciding to work harder and pray faster so the good lord would make me prettier, may-be then some one would love me.Age nine... All my birthday and Christmas wishes were granted, my biological mother and her partner came and took me from the orphanage, I was going to be some ones little princess.Age ten... The night devil stole my dreams taking the child god created, and in her place stood another who was moulded to be what he desired. Age sixteen.... I fought for my freedom and dignity nearly costing me my life, I ran from my past into an ebony night and my fight for survival had only just begun Age forty-nine.... I wrote my story and self published to let the world know what happened to me in my house of whispers.
---
Thank you so much to Sharon for joining us today! If you'd like to pick up a copy of her book
A House Full of Whispers
click on the cover image below.