Here goes this week's Library Loot!


The seductive city of Venice has lured Homer Kelly to a rare books conference, and wife Mary has eagerly come along, camera in tow. Upon arrival they find their Venetian host, Sam Bell, reveling in an examination of holy relics entrusted to him by the new Procurator of Saint Mark's, Lucia Costanza. Sam is convinced they are fraudulent. (He may be surprised.). But soon the Kellys' tranquil getaway turns into a life-and-death adventure, when Lucia's soon-to-be ex-husband is killed and Lucia disappears, branding herself the prime suspect. Bucolic Venice begins to look more and more sinister as Sam's borrowed relics disappear one by one and his motherless little daughter, Ursula, begins to behave in a most unusual way. The plot thickens with the help of Mary's simple snapshots of jade-green canals, the Rialto Bridge, the Piazza San Marco, the ancient Ghetto, and churches, palaces, and squares in every remote corner of the city. Before long she is in danger, pursued across a maze of ancient bridges while the lagoon overflows and floods the streets. In the end there is a miracle - could it possibly be real? - and a treasure is uncovered, painfully recalling the fate of Venetian Jews in World War II.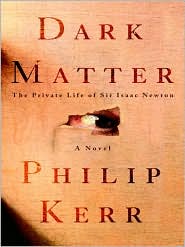 In 1696, Christopher Ellis, a young, hot-tempered gentleman, is sent to the Tower of London, but not as a prisoner. A sudden twist of fate has led him there to assist the renowned scientist Sir Isaac Newton, who as Warden of the Royal Mint has accepted an appointment to hunt down counterfeiters who threaten to topple the shaky, war-weakened economy. Armed with Newton's superior intellect and Ellis's skill with a sword, the new partners seem primed to solve the case. But when their investigation leads them to a mysterious coded message on a corpse hidden in the Lion Tower, they realize that something more sinister is afoot. In the heat of their pursuit, Newton and Ellis's suspicions become all too real as the body count rises and the duo uncovers a menacing far-reaching plot that might lead to the collapse of the government—and cost them their very lives. An extraordinary, suspense-filled, and richly satisfying tale,
Dark Matter
is an engrossing mystery infused with the volatile mix of politics, science, and religion that characterized life in seventeenth-century London.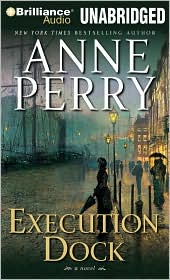 Listeners of Anne Perry's bestselling William Monk novels feel as if they've experienced the many shades of Victorian London, from Belgravia to Limehouse, from drawing room to brothel. In Execution Dock, Perry's first Monk novel in three years, we find ourselves on the bustling docks along the River Thames. Here the empire's great merchant ships unload the treasures of the world. And here, in dank and sinister alleys, sex merchants ply their lucrative trade.
The dreaded kingpin of this dark realm is Jericho Phillips. On his floating brothel, sex slaves are forced to endure unspeakable acts. Now one such soul, thirteen-year-old Fig, is found with his throat cut, his tortured body tossed into the river.
Commander William Monk of the River Police swears that Phillips will hang for this abomination. But the miscreant is as wily as he is monstrous, and his wealthy clients seem far beyond the reach of the law. Monk's attempt to bring about justice becomes the first electrifying episode in a nightmare that will test his courage and integrity.
However, reinforcements are on the way. Monk's wife, Hester, who runs a free clinic for abused women, draws a highly unusual guerrilla force to her husband's cause - a canny ratcatcher, a retired brothel keeper, a fearless street urchin, and a rebellious society lady. To one as criminally minded as Phillips, these folks are mere mosquitoes, to be sure. But as he will soon discover, some mosquitoes can have a deadly sting.
This gripping, terrifying story hurtles toward a denouement that will leave the reader breathless but cheering. Execution Dock is Anne Perry at her incomparable, magnificent best.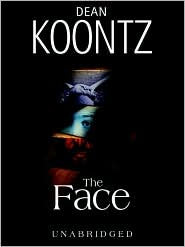 Acknowledged as "America's most popular suspense novelist"(
Rolling Stone
) and as one of today's most celebrated and successful writers, Dean Koontz has earned the devotion of millions of readers around the world and the praise of critics everywhere for tales of character, mystery, and adventure that strike to the core of what it means to be human. Now he delivers the page-turner of the season, an unforgettable journey to the heart of darkness and to the pinnacle of grace, at once chilling and wickedly funny, a brilliantly observed chronicle of good and evil in our time, of illusion and everlasting truth.
He's Hollywood's most dazzling star, whose flawless countenance inspires the worship of millions and fires the hatred of one twisted soul. His perfectly ordered existence is under siege as a series of terrifying, enigmatic "messages" breaches the exquisitely calibrated security systems of his legendary Bel Air estate.
The boxes arrive mysteriously, one by one, at Channing Manheim's fortified compound. The threat implicit in their bizarre, disturbing contents seems to escalate with each new delivery. Manheim's security chief, ex-cop Ethan Truman, is used to looking beneath the surface of things. But until he entered the orbit of a Hollywood icon, he had no idea just how slippery reality could be. Now this good man is all that stands in the way of an
insidious killer—and forces that eclipse the most fevered fantasies of a city where dreams and nightmares are the stuff of daily life. As a seemingly endless and ominous rain falls over southern California, Ethan will test the limits of perception and endurance in a world where the truth is as thin as celluloid and answers can be found only in the illusory intersection of shadow and light.
Enter a world of marvelous invention, enchantment, and implacable intent, populated by murderous actors and the walking dead, hit men and heroes, long-buried dreams and never-dying hope.
Here a magnificent mansion is presided over by a Scottish force of nature known as Mrs. McBee, before whom all men tremble. A mad French chef concocts feasts for the mighty and the malicious. Ming du Lac, spiritual adviser to the stars, has a direct line to the dead. An aptly named cop called Hazard will become Ethan's ally, an anarchist will sow discord and despair, and a young boy named Fric, imprisoned by celebrity and loneliness, will hear a voice telling him of the approach of something unimaginably evil. Traversing this extraordinary landscape, Ethan will face the secrets of his own tragic past and the unmistakable premonition of his impending violent death as he races against time to solve the macabre riddles of a modern-day beast.
A riveting tour de force of suspense, mystery, and miraculous revelation, The Face is that rare novel that entertains, provokes, and uplifts at the same time. It will make you laugh. It will give you chills. It will fill you with hope.