Mailbox Monday is hosted by
The Printed Page
and is where we share all the books we received in the mail over the past week. I, personally, am no longer going to include books I receive for review, since they're already covered in their individual
New Book Arrival
posts.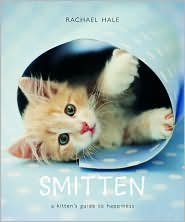 Ever wished you could be as happy and carefree as a kitten?
Smitten: A Kitten's Guide to Happiness
will help point the way. Acclaimed photographer Rachael Hale uses her lens, her love of cats, and a great deal of patience, to create an enchanting perspective on how kittens see the world.

This latest collection in her bestselling book series features 60 brand new images of adorable kittens as they frolic, sleep, and explore. The heartwarming and amusing photographs are presented alongside memorable quotations that serve to remind us to remain curious, to revel in playtime, to appreciate fine food and friends, and to never underestimate the power of a good nap.
For my friend abroad, but I'm stealing it to read first before it goes on her shelf!
Norilana Books proudly presents the debut title of our new romantic fantasy imprint Leda...
Introducing LACE AND BLADE -- an original new anthology series of elegant romantic fantasy, edited by Deborah J. Ross, premiering on Valentine's Day 2008.
In the spirit of classic period swashbucklers, Zorro, the Scarlet Pimpernel, and D'Artagnan, brimming with romantic courtly intrigue and dangerous liaisons, with cloak and dagger and perfumed handkerchiefs, the language of the fan and stolen glances, with the manners of Jane Austen and the sparkling rapier wit of Oscar Wilde, here are nine fantastic stories of adventure, derring-do, love, and glamorous yet subtle magic, by such stellar authors as Tanith Lee, Catherine Asaro, Diana L. Paxson, Madeleine E. Robins, Robin Wayne Bailey, Dave Smeds, Mary Rosenblum, Chaz Brenchley, and Sherwood Smith.
Don't hesitate another moment... step into a sophisticated other world where passion is a courtly mistress, mystery is moonlight on steel, and magic is the god of love.
En garde, mon amour!
For my friend abroad.